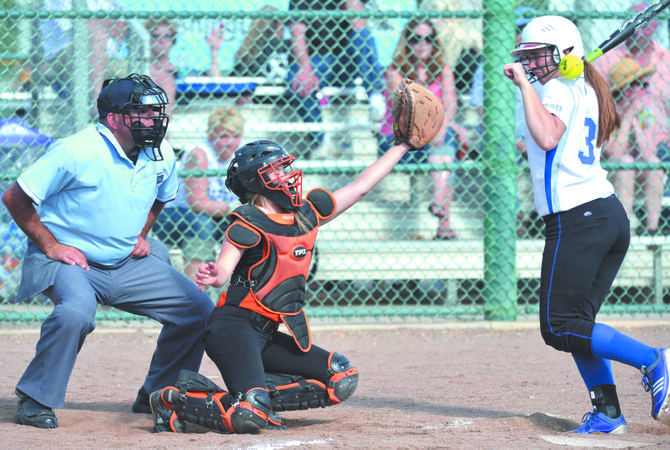 Photo by Al Camp
La Conner's Lauren Reynolds is struck by a pitch Friday. Bridgeport's catcher is Mari Hourie and the umpire is Aaron Rebhahn.
YAKIMA — Liberty Bell went 1-2 and Bridgeport 0-2 in the state 2B softball tournament Friday and Saturday at the Gateway Sports Complex.
Liberty Bell edged Darrington, 12-10, in eight innings to reach the quarterfinals.
The Mountain Lions charged back from an early 2-1 deficit to lead 8-3 in the top of the fifth.
The Loggers climbed back in the game, closing to 8-6 in the bottom of the fifth moving in front, 9-8 in the bottom of the sixth.
Coach Lee Pilkinton brought in Lily Darwood to pitch and sent Kelsey Baldwin to first to finally get Darrington out in the bottom of the sixth.
Baldwin sent a chopper up the middle to score two runs in the top of the seventh for a 10-9 lead.
Darrington pushed one run across in the bottom of the seventh before Liberty Bell squelched the rally with a third-out strikeout.
An error on a hit by Julie McMillan allowed Baylee Canedo to score the go-ahead run.
Another error allowed Kuirstin Pilkinton to score an insurance run.
"The coach gave me a rest," said Baldwin, who returned to the mound in the bottom of the eighth. "It was his decision to swap back. It was a great decision on the coach's part."
Baldwin got the final two outs.
"We went in there with our heads held high," Baldwin said. "It (the score) just started to teeter totter. We rallied, it was nice. We worked hard for that win. It was our best game of the year."
"I guess all the hard work paid off in the end," said left fielder Lauren Ochoa of Liberty Bell, who received the sportsmanship medallion after the game.
"You just can't let down, it's always that one run that makes the difference," Pilkinton said. "Win or lose, you can't let down."
"Your heads stayed up and nobody gave up," coach Lee Pilkinton said. "We said all season you never give up. Now you see how important is to play 7 innings or 8 innings. Let's hear a Lions roar!"
The coach said it's easy to win when you lead all the time, but it takes a special effort to come from behind.
"They never gave up," the coach said. "The energy was there. The kids played well the whole eight innings, and that is why they won. I'm just tickled with them. They just hung in there. They are just tough kids."
Teams could not reach Darrington after the deadly slide at nearby Oso this spring.
"We were 2-2 before the slide," assistant coach Nancy Snyder said. "We made it up the last couple weeks."
At the end of the game, Baldwin presented the Darrington team with a bouquet of flowers in honor of Oso.
"We respect other teams," Baldwin said.
Darrington also enjoyed the warm weather at state, which hovered in the 80s for the weekend. The Loggers could not practice Wednesday due to rain.
"It was great coming to state," Snyder said. "We came over the mountains and saw sunshine."
Liberty Bell (12) – Bailey 1-5, 2B; Pilkinton 1-5, 2B; Ochoa 3-5, 2B; Je. McMillan 1-5; Baldwin 2-5; McMeans 2-5; Darwood 1-4, 2B.
---
Napavine, which finished second at state, blasted Liberty Bell, 22-2, in the quarterfinals.
"Napavine is just a good ball club," coach Pilkinton said. "The first five or six hitters not only hit the ball but smoked the ball."
Liberty Bell (2) – Pilkinton 1-2, 2B; Perryman 1-2; Ochoa 1-2, 2B.
---
Liberty Bell went 1-1 the first day and reached the final day of play Saturday, where the Mountain Lions met a familiar nemesis, Kittitas.
The Coyotes beat the Mountain Lions, 11-1, in the District 5/6 championship game for seeding to state.
This time, in a loser-out consolation game, Kittitas won, 15-3.
"We played pretty well," coach Pilkinton said. "We had some unforced errors and did not hit the ball as well as we possibly could have. Their pitcher was under control and had a great game and our bats were cold, that's basically what it boiled down to."
Liberty Bell has reached state three of the last four years. This year's 1-2 team matched the effort four years ago. Last year's squad was 0-2.
Liberty Bell (3) – Tannehill 1-3; Canedo (catcher) 1-3; Pilkinton 1-3; Perryman 1-4; Je. McMillan 1-3.
---
DeSales knocked Bridgeport into the consolation bracket of the 16-team 2B tournament with an opening round 18-0 victory on Friday.
"We started off slow," Bridgeport coach Henry Austin said. "We got a couple errors on routine plays and they scored 9 runs in the first inning."
Asked if the Fillies, who had not been to a state softball tournament since slowpitch (went 4-2) in 1994, might have suffered from jitters, Austin said, "It might have had something to do with it.
"We got down and never could recover. We kept them off the bases for the next four innings."
Bridgeport's lone hit was by Samantha Martinez, a double in the first inning with two outs.
DeSales finished third in state, beating Morton-White Pass, 8-7, in the consolation trophy game.
"I knew they (DeSales) was a pretty good team, so I was not too disappointed (by the loss)," Austin said.
Toutle Lake won the 2B championship 6-2 over Napavine.
---
La Conner blanked Bridgeport, 10-0, to eliminate the Fillies on the first day of state.
Martinez and ShayLee Polvos produced the lone hits for Bridgeport (16-9).
"We hit the ball hard, but it was always right at them," Austin said. "We must have hit six line drives at them the first couple innings. We had the bases loaded a couple times, but could not get the hit to keep us going.
"Overall, I think they gained a lot of experience."
Bridgeport's seniors are Courtney Austin and Dio Torres.
'There are some things you can't control," Courtney Austin said. "This is the first fastpitch team in school history to make it to state. We're making history."
Torres did not get to play at state following an operation. She did get a late at-bat against DeSales.
"I encourage them," Torres said. "I was sad I didn't get to play. I actually got to bat, but I hit a pop fly that was caught."
"I know Brewster and Okanogan are coming down (to 2B next year), but I think we will be competitive," Austin said of the returning players.
"I am sure there will be more state bids next year with them (Brewster, Okanogan and Tonasket) joining us," the coach said. " Hopefully, we can get one of those.
"Overall, we had a pretty successful season."