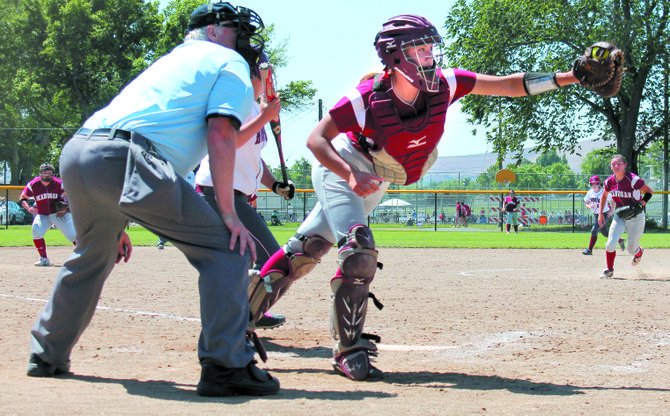 Dana Tolick/Special to The Chronicle
Okanogan catcher Kylie Stewart grabs the ball at home during game against Hoquiam on Friday.
RICHLAND-Okanogan High School's fastpitch team went 4-2 at state, missing the consolation trophy game by one victory Friday and Saturday at the Columbia Playfields.
Both losses were to Hoquiam, starting with an opening, 13-4, decision.
"We had one inning where we had some costly errors," Okanogan coach Darin Radke said. "They took advantage of that. They scored a bunch of unearned runs with two outs."
Out of Hoquiam's 13 runs, 7 were unearned.
"You cut out those mistakes and it's more like a 6-4 game late," Radke said. "That's a big difference in how you approach it."
Makenzie Norwill and Keeley Morris each homered for Okanogan.
Okanogan (4) – Bauer 1-4, R, 3B; Moses 1-1, RBI; Norwill 1-3, R, HR, RBI, BB; Morris 2-3, 2R, 2B, HR, RBI; Oules 1-3, RBI; Gray 1-3, 2B; Bryson BB; Zacherle 1-2, BB.
---
Okanogan started eliminating teams in the consolation bracket starting with a 5-2 win over Coupeville.
"We started a little bit slow," Radke said.
The Bulldogs pushing across four runs in the second jump started the team.
"We realized we can play this thing," the coach said. "We played well the rest of the afternoon."
Norwill struck out 9, walked 4 and gave up 2 earned runs on 7 hits.
"She started hitting her spots a little bit better," Radke said. "The ball had a little better movement."
Okanogan (5) – Bauer 1-4, R; Moses 3-4, 2R; Norwill 1-3, R, , RBI, BB; Morris 3-4, 2B; J. Townsend 2-4, 3B, RBI; Oules 1-4; Erks 2-3; Zacherle R.
---
Next up was a 5-4 win over Seattle Christian.
The Bulldogs trailed 3-0 before getting four runs in the third inning.
"We got the lead and added another one in the next inning," Radke said. "We kept playing really solid defense from there.
"Seattle Christian is real fast. They hit a ground ball and are real fast to first base. You can't bobble the ball if you want an out."
Norwill struck out 6, walked 3 and gave up 2 earned runs on 5 hits.
Okanogan (5) – Bauer 1-3; Moses 2-3; Norwill 2-3, 3B; Morris 1-2; J. Townsend 2-3; Gray 1-3.
---
Okanogan eked out a 5-4 win over Nooksack Valley to get within two games of playing for a trophy.
The Bulldogs took a 5-2 lead over Nooksack after three innings before scoring a run in the fourth and another in the fifth.
"They kind of kept chipping, chipping," Radke said. "We had an inning when the bats came alive."
Sam Zacherle got the third-inning rally going with a single that was followed by doubles by Norwill and Jill Townsend and singles by Brooklyn Bauer and Peyton Oules.
Norwill faced the No. 2, No. 3 and No. 4 batters in the seventh, striking them all out.
She finished with 7 strikeouts, 4 walks and 9 hits for 2 earned runs.
Okanogan (5) – Bauer 3-3, 2R, BB, 3SB; Moses R; Norwill 2-4, 2R, 2 2B, 2RBI; Morris 2RBI; J. Townsend 2-3, RBI, 2SB; Zacherle 1-3.
---
The state bracket had Hoquiam, on the same side as Okanogan, bouncing over to play Okanogan again after a semifinal final loss to Mount Baker.
"We were out of gas," Radke said of the 15-1 loss. "It was our fifth game of the weekend. We put so much emotional energy against Nooksack and there was only 10 minutes between games. We ran out of energy. They had a break between games.
"I thought our girls went and competed really hard. It's such a mental grind to play five games in two days. I am proud of them. They never gave up, they never quit."
Peyton Oules doubled for the Bulldogs, which mustered only three hits.
"That's mentally tough as much as being physically sore and tired" after five games, Radke said.
"They gave everything they had, left it all on the field, and came up a game short of a trophy. We technically tied for fifth with Connell, in state. That's nothing to hang your head about."
Okanogan (1) – Norwill 1-2, R; Morris 1-1, RBI, BB; Oules 1-2, 2B; C. Townsend BB.