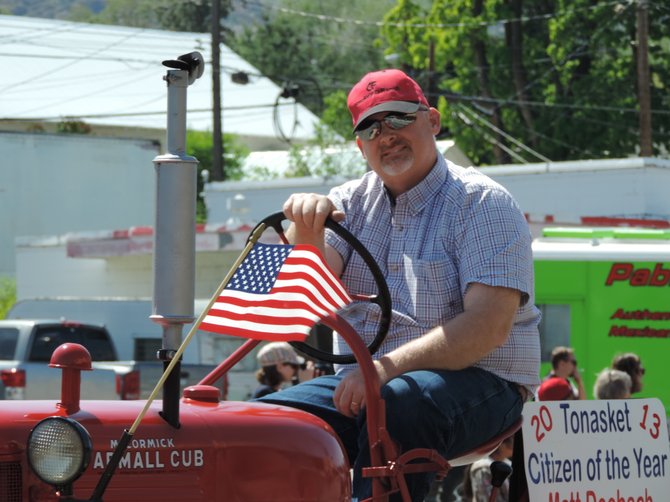 TONASKET — Hundreds of spectators ventured to town last weekend for a variety of events during the annual Founders Day celebration.
The weekend events included the Shane Proctor Invitational PBR, a parade, Freedom 5K run, street dance, games and a variety of vendors.
Miss Tonasket Rodeo Queen, Brisa Leep, said four of her friends became rodeo queens, and "I want to do it, too."
She has been representing Tonasket at parades and rodeos throughout the Northwest and said Tonasket is still her favorite.
"The community comes together as family, I love it," Leep said.
The weekend theme was, "Through a child's eyes," but events were for more than just children.
Bruce Cougar of Tonasket said he's been attending the parade since he moved here, more than a decade ago.
"That's why I live here. I love this little town," Cougar said.
Parade participants were judged on the design of their entry. Winners are:
Queen's Choice – Sweet Potato Queens.
Judges' Choice – 1, Brisa Tonasket Founder's Day Queen; 2, Penticton Peach Festival.
Bands – 1, Tonasket Tiger Band; 2, sixth-grade band.
Classic car – 1, 1955 Chevy Bel-Air; 2, Chevy Thriftmaster; 3, Thunderbird.
Novelty – 1, Family Health Centers; 2 FFA tractors; 3, Confluence Health and North Valley Hospital: Stay Healthy and Play Outside.
Big truck and businesses: 1, Gold Digger Apples; 2, Weller and Will Logging; 3, Okanogan County Sheriff's Office.
Queens – 1, Appleatchee; 2, Tonasket Founders Day; 3, Ms. Colorama.
Floats – 1, Tonasket Visitor and Business Resource Center; 2, Tonasket Farmers Market; 3, Riverside Lighthouse.
In addition to the old-fashioned fun, 86 children and adults participated in the 10th annual Freedom 5K run, hosted by the Tonasket/Okanogan Valley Lions Club.
Winners are:
17 and younger — 1, Israel Escamilla; 2, Garrett Willson; 3, Chris Freese.
Ages 18-35 — 1, Nelson Osogobio; 2, Ruby Osogobio; 3, Paul Lacey.
Ages 36-50 — 1, Steffi Fuchs; 2, Todd Holton; 3, Todd McDaniel.
51 and older — 1, Aixance Bayler; 2, Mark Eggleston; 3, Jim Helleson.
Overall — 1, Israel Escamilla; 2, Garrett Willson; 3, Nelson Osogobio.