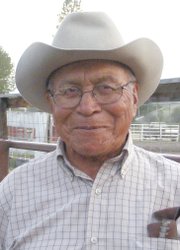 NESPELEM — An Omak resident and rodeo legend was killed Wednesday evening when his car collided with a tractor-trailer on state Highway 155 near the Colville Indian Agency campus.
Lawrence F. Condon, 81, died at Coulee Medical Center in Grand Coulee, the Washington State Patrol said.
Condon was eastbound on Columbia River Road at 5:35 p.m. and had stopped at a stop sign before pulling out to cross the highway. He pulled into the path of the northbound truck, which was driven by Theodore J. Jones, 56, of Tonasket, the patrol said.
Jones, who was wearing a seatbelt, was not injured.
Condon was not wearing a seatbelt. It's not known if drugs or alcohol were involved, the patrol said.
Condon's vehicle was destroyed. The truck was damaged.
The crash's cause remains under investigation and charges are not anticipated.
Complete coverage is planned for the joint Sunday extra of The Chronicle/Wenatchee World.