NESPELEM — Colleen L. Gillogly knows her common-law husband of 10 years likely is dead, but she's hoping his body is found soon so she can bring closure to the boating mishap that overturned her world.
Kenneth J. Leslie, 46, is missing and presumed drowned after the boat in which he and Gillogly were traveling swamped and overturned in the runoff-swollen Columbia River last Wednesday morning.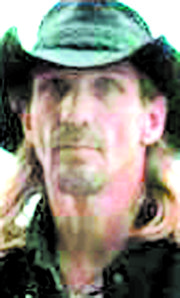 "I just want my honey found, soon, so he can be put to rest," Gillogly said Monday before leaving to go back to their home in Sedro Woolley.
Gillogly, 44, and Leslie were taking fishing and camping gear to a camping spot from a boat launch on the Columbia near the Timm Ranch, southeast of town, early Wednesday morning.
Leslie had made a trip to the camping spot and came back for a second load. He beckoned Gillogly and their two dogs into the boat.
"I told him it was too heavy," she said. "He said, 'Trust me,'"
Halfway across the river, water started coming into the boat, which then nosed into the cold water and overturned, she said.
She grabbed her life vest and struggled into it – backwards and upside-down – as the boat went over. Her pit bull puppy, Trouble, grabbed onto her and helped keep the vest on her.
Meanwhile, Leslie was unable to get into his life vest. He saw their Chihuahua go underwater.
They continued to struggle, with Gillogly trying to hang onto the dog and the boat's rope while swimming toward shore.
"He told me to let go," she said. "I turned and saw him sink."
With the dog's help, she got to shore and ran to their SUV to seek help. She found someone nearby at the Timm Ranch and Colville Tribal Police were called. The Okanogan County Sheriff's Office responded, too.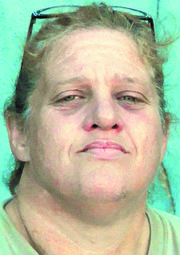 Law enforcement continues to search the river southeast of town for Leslie's body, Sheriff Frank Rogers said. The rescue effort has turned to a recovery effort, with the two departments alternating search days.
The boat and some of the couple's equipment was found five miles downstream.
Rogers said his office was called around 8:15 a.m. Wednesday. The incident occurred around 6:30 a.m. on a remote stretch of the river.
Sheriff's Office Chief Criminal Deputy Dave Rodriguez, who is also a diver, is in charge of the investigation.
Gillogly said Leslie has been ill for some time and was not a strong swimmer.
"He probably didn't think the river was as swollen as it is," friend Gina Good said. "He saved her. That was his last effort. That's just a gallant thing."
Gillogly said the two met while both were driving truck. They'd been together 10 years.
Leslie, whose nickname was "Stix," enjoyed camping, fishing and hunting, and enjoyed working on cars. He helped people in need.
He is survived by his father in Sedro Wooley, a daughter in Alabama, five stepchildren, a son-in-law and two grandchildren.
Gillogly said memorials to help with his cremation costs may be sent to Aflac representative Alice Mulligan in Mount Vernon.
She said when his body is found, she hopes his ponytail can be saved so she can put it in her medicine bag.
"He was my everything," she said.