State Hall of Fame basketball coach Jim Thacker will be part of the staff coaching at an Oroville Summer Basketball Camp on June 16-20.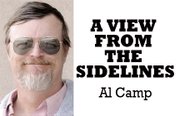 The camp, open to boys and girls, is organized by Jim Thacker's son, Jay, who is the boys' coach at Oroville High School.
This is a basketball fundamental camp for boys and girls "looking to improve their shooting, passing, ball skills and pivoting," Jay Thacker said.
Coaches from Oroville girls and boys basketball programs also will run the camp.
You can sign up at offices at the high school, 1016 Ironwood St., or elementary school, 808 Main St.
Sessions will include 8-9:30 a.m. for those going into grades 2-5 and 10 a.m. to noon for those going into grades 6-8.
There is a cost for the camp.
Jim Thacker, who coached at Omak, Walla Walla and in Idaho, finished with a 33-year record of 440 wins and 317 losses. He was inducted in 2008 into the Washington Interscholastic Basketball Coaches Association Hall of Fame.
---
Cutthroat fishing in Omak Lake is heating up, according to Anton Jones of Darrel and Dad's Guide Service out of Chelan.
Also hot are fishing the "Bar" in the mornings for lake trout and kokanee in the lower basin of Lake Chelan.
"Omak Lake is producing 10 fish an hour using Kingfisher Lite spoons in glow green color," Jones said. "While some fish are 12 to 14 inches, every trip produces a bragging size cut."
While Colyar ledge on Lake Chelan continues to provide good action in the mornings, Jones said of fishing for Mackinaw, the "Bar" is heating up.
For kokanee, fish 60 feet in the lower basin with Mack's Lure wedding rings and mini squid rigs baited with Pautzke's Fire Corn.
---
The Wenatchee River spring Chinook fishery opened for the first time in nearly 20 years on Friday.
With almost 10,000 hatchery Chinook expected to return to the river this year, the state Department of Fish and Wildlife opened two sections of the river.
The river is open from the Washington State Parks foot bridge at Confluence Park (just upstream from the confluence with the Columbia River) to 400 feet below Dryden Dam.
The river also is open from the confluence with Peshastin Creek to the downstream side of the confluence with the Icicle River and from that point to a marker on the opposite shore.
The fishery will be open seven days a week in both areas until further notice.
---
Anglers are starting to cash in on tagged triploid trout in the Conconully lakes.
There were 51 fish worth $25 each that recently were planed.
Gene Knight of Wenatchee caught one of pricey trout fishing off the bank near Liar's Cove Resort, Gene Bussell with the resort said.
"Gene caught one last year, also," Bussell said.
Jim Smith of Arlington caught one of the fish, too.
Both were using Power Bait, Bussell said.
"I haven't seen many kokanee this week, but fishing has still been great," Bussell said. "There's been lots of 14- to 16-inch rainbows."
---
An agreement published Friday in the Federal Register calls for the U.S. Environmental Protection Agency said to restore temporary buffer zones for spraying several common agricultural pesticides along salmon streams in Washington, Oregon and California.
There are five broad-spectrum insecticides that harm salmon even at very low levels — carbaryl, chlorpyrifos, diazinon, malathion and methomyl.
The insecticides kill insects and vegetation in the water used by that salmon, whose sense of smell used to navigate also suffers.
Farmers are prohibited from spraying on the ground within 60 feet of a salmon stream and aerial spraying within 300 feet.
Some Columbia Basin fruit growers voluntarily went to larger buffer zones to protect salmon.
Buffers are already in place for several other pesticides.
---
Lee "The Bulldog" Morrison of Okanogan showed up in a search showing he's endorsing Alkame Water, which offered to supply LeBron James a 1-year supply of its bottled water after the NBA star suffered leg cramps in Game 1 of the NBA championships last week.
I was looking for results of Lee's fight June 7 in Ingushetia, Russia, against Tural Ragumov, who is a mixed martial artist with an 8-1 record.
I learned later Monday that Lee tapped out from an arm bar three minutes into the first round.
"I lost; tough fight," Morrison said. "I was kicking his butt and got caught in an arm bar. I made a rookie mistake and it cost me.
"I'll be spending the next several months working on technique and body composition. I'm looking to return to Russia again in October for a victory. This bulldog will not be stopped again."
---
Athletic scholarship news is filtering this way, with reports from Brewster and Okanogan.
Bears continuing to compete in athletics starting in the fall include Brette Boesel in volleyball at Western Washington University, Easton Driessen in basketball at Wenatchee Valley College, Monica Landdeck in basketball at North Idaho College and Chandler Smith in basketball at the University of Nebraska.
Those continuing to play sports include Justin Rivas, Jason Perez, Justin VanderWeide and Makenzie Norwill. I am told there is another girl but the name was not available.
---
Although the Cutthroat Classic's 11.1-mile trail run isn't until Aug. 23, limited sign-ups are going fast and sell out every year.
The run, which includes four waves of runners starting in intervals at 8 a.m., includes great views of the North Cascade Mountains while following the Pacific Crest Trail over Cutthroat Pass west of Winthrop and Mazama.
Race registration includes transportation to the race start and back to Mazama from the finish, a race T-shirt, aid stations, awards and random prizes.
Registration is available online at www.mvsta.com.
---
There were three openings for teams in the expanded Osoyoos, B.C. beach volleyball league as of last week.
The league, started in 2005 following the popularity of the 4-on-4 sport, expanded from 12 to 20 teams for this summer's competition that starts today, June 11.
Teams of 4 to 6 members are required to have at least one female player on the court at all times.
The courts are at Gyro Beach.
The league has its own Facebook page and can be found at facebook.com/osoyoos
beachvolleyball.
You can inquire at the Town of Osoyoos or by calling league coordinator Amy Bartsch at 250-498-7580.
---
Omak High School's May Athletes of the month are Yvonne Kilgour and Marcos Ruiz, who both compete on the track team.
Kilgour broke the high school shot put record earlier this year with a heave of 37 feet, 9 inches.
The previous record was 37-5.
She threw 37-0 at state and medaled in seventh place.
Marcos finished sixth in the state long jump with a personal best of 20-4.
The exceeded his best previous leap by more than nine inches, school athletic director Nick Popelier said.
Ruiz, who graduated Saturday, leaves for the Army on July 21.
Al Camp is the sports editor for The Chronicle. Email him at sports@omakchronicle.com.