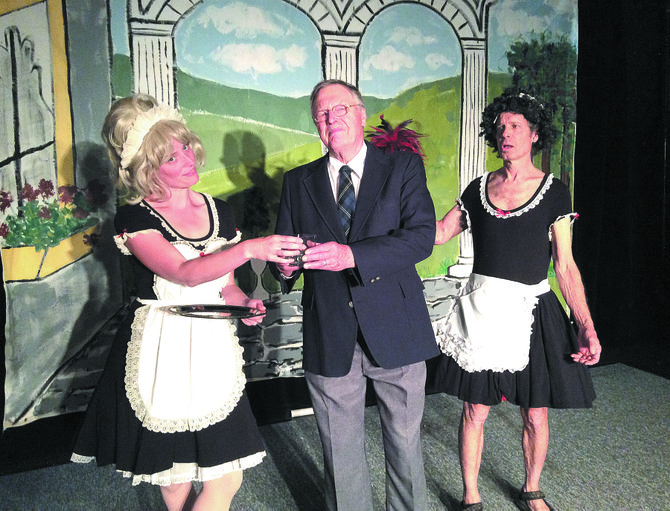 Sarah Kaiser / Special to The Chronicle
Erin Meehan, from left, Bob Goodwin and Rob Thompson perform in 'The Taming of the Shrew,' which opens Thursday in Tonasket.
TONASKET — Shakespeare meets the 1960s in a two-weekend production of the Bard's comedy "The Taming of the Shrew."
The Tonasket Theater show opens at 7 p.m. Thursday at the Community Cultural Center, 411 S. Western Ave.
Opening night proceeds go to the Food Bank building purchase fund; the remaining five shows benefit the cultural center.
"The Taming of the Shrew" tells the story of a mother with a sweet, beautiful daughter, whom all the local men love, and an older, strong-willed, opinionated daughter. The men all want to court the beautiful girl, but the mother won't cooperate until the older daughter is married off.
The men get together and try to figure out how to tame the shrew.
"It's Shakespeare's words, but set in 1968," director Sarah Kaiser said of the show. "We've got go-go boots, leisure suits and lava lamps, and the background music" of the late 1960s.
"The themes of sibling rivalry and power struggles and underhanded plotting were alive 400 years ago," when the play was written, "and they still are today," she said.
Although she had to be creative with the staging, "I know Shakespeare would approve," she said. "He wanted people to have fun at his plays."
She said half the cast was in college in 1968 and the rest weren't born for another 10 years. While putting together the play, there was a lot of reminiscing and explaining went on.
Opening night will benefit the Tonasket Food Bank, which is raising money to purchase the building it's been renting.
"I'd love it to be an ongoing thing, to benefit something on opening night" of a production, Kaiser said.
The show will continue at 7 p.m. Friday and Saturday and again June 20-21, and 4 p.m. June 22. Admission will be charged.
Cast members are Rob Thompson, Nicole Pearce, Doug Leese, Ken VanderStoep, Bob Goodwin, Lisa Lindsay, Betsy Rainsford, Erin Meehan, Mike Oberg, Scott Olson and Salem Straub. Crew members are Melanie Thornton and Kathy Swedberg.