June is one marvelous month.
It's "National Smile Month," "Candy Month," "Dairy Month," "Fresh Fruit and Vegetable Month" and "Men's Health Month."
There also is Father's Day.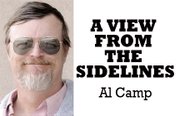 I am going to get them all out of the way this weekend with a big smile and probably toss in some fresh produce maybe with some whipped cream on top along with a green veggie for my dinner. Afterward, I will walk a couple miles to keep my body and doctor happy.
To achieve all this, I am taking a few days off to visit my parents, Art and Charlotte, in Rainier.
I have been known to take a small portion of my vacation time over the years. Sports keeps me way too busy.
I loved taking about 10 days off after Stampede with my wife, Dee, and son, Doug, when he was growing up. We'd all head to the Oregon coast for beaches, dunes and go-karts.
He's grown now, got a job and pretty much heads his own way. Happily, he does return home for a visit — with us and our handy refrigerator — every month or two. I think he's planning to stay this summer while looking for a new place to live in the Cle Elum-Thorp-Ellensburg corridor.
Last year, I took some time off and visited my parents, who I had not seen for a very long time — surely more than a decade. How time flies when you're working in a newspaper, especially now that we put out two issues a week.
My 85-year-old mother is pretty much blind now, something to do with old age and degeneration of her eyes. When I was home last year, she kind of looked out of the side of her eyes to get a glimpse of me.
The hugs are still spot-on and appreciated.
Art is going deaf; something to do with his working in a gravel pit and getting rocks unstuck on the high conveyor belts. He should have used more ear protection.
What a pair — one can see to drive and the other can hear noises whilst on the road.
They like to watch the news on a big screen. The news crawls across the bottom, where Art can read it, and my mother, with the aid of binoculars, can view the words.
Last year Art and I went to the races on the paved track in Tenino. We enjoyed the Father's Day cheap tickets, cold beer and big burgers while watching a sport we both love. I saved money by staying overnight in their motor home.
I came home the next day, getting breakfast with my sister, Daisy, and her husband, Bob, at a pancake house.
Bob needs to meet Doug. They both are musicians. That almost came to pass last weekend when Doug played with his band mates, Devin and Ben, as Skinwalker in Spanaway.
This year Art wants to attend the motorcycle races in Rainier and they cost a bit less than the oval track races.
I sure like these yearly get-togethers. Wish I had taken more of them over the years. As they say, if you are on your deathbed, you probably won't be saying you wish you had another day to put out another story.
You probably would wish for a little more time to be with family.
Al Camp is the sports editor for The Chronicle. Email him at sports@omakchronicle.com.