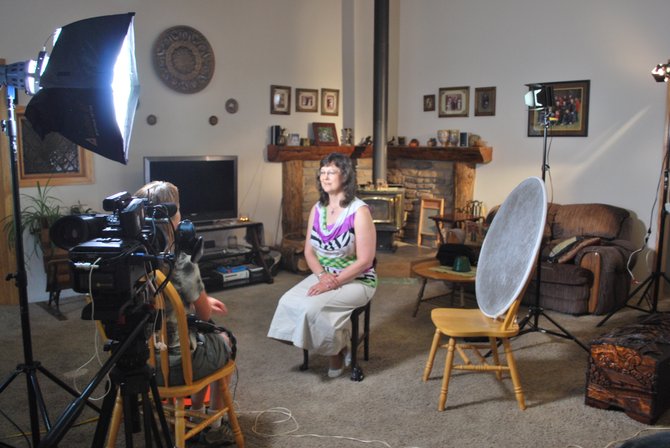 Chelsee Johnson
Shelly LaGrou is interviewed by a "Good Morning America" crew Wednesday about her daughter's rescue in Alaska.
HEALY, Alaska – An Omak woman rescued last Sunday after falling off a cliff says the experience won't change her life.
Cherelle "Evie" LaGrou, 18, was uninjured in the fall.
"I can't really let one experience that was negative change my outlook on such a wide variety of activity," LaGrou said. "I like hiking. I love it and I don't want to stop."
The 2013 Omak High School graduate became nervous about poor footing while hiking alone near Denali National Park on June 8 and called her mother, Shelly LaGrou, who told her to tuck her phone in her clothes so that she had both hands free.
About 15 minutes later, Cherelle told her mother that she had reached the edge of the mountain.
Next, Shelly LaGrou said all she heard was a scream and sudden hysteria.
She had no idea what happened.
Shelly LaGrou was able to calm her daughter down enough for her to say the ground had fallen out from under her and she was stuck on the icy cliff about 60 feet above Fox Creek, the mother said.
Shelly LaGrou called her husband, Joe LaGrou, who then called the Denali Princess Wilderness Lodge, where Cherelle LaGrou is working as a housekeeper this summer. Lodge staff notified Alaska State Troopers.
"I knew that I had to stay calm to keep her calm, Shelly LaGrou said, noting that her daughter said her feet were slipping and her arms were tired.
"I wasn't sure how much longer I could hold on," Cherelle said in tears, "I had to say goodbye to my parents, it was awful."
Shelly LaGrou prayed with her daughter for a miracle.
The first rescuer arrived approximately 30 minutes after the call to the lodge.
About the same time, LaGrou's cell phone battery
died, leaving her parents wondering about their daughter.
Eventually troopers were able to affix ropes to LaGrou and lift her back up the mountain, at which time Joe and Shelly LaGrou were notified that their daughter was safe.
LaGrou said, "There's no doubt in my mind that I would not be here right now if I would not have been on the phone with my mom at that time."
LaGrou's story has received national attention. ABC's Good Morning America interviewed Shelly and Cherelle LaGrou last Wednesday; the episode aired Friday morning and can be found on The Chronicle website. The associated press and other news outlets all over the country have covered Cherelle LaGrou's rescue. National Geographic Channel was in the area at the time of the rescue filming the reality show "Alaska State Troopers," the episode will air this fall.
As for her future hikes, her mother said she supports her, under one condition.

"I'm all for her hiking, as long as she goes with a group," Shelly LaGrou said.