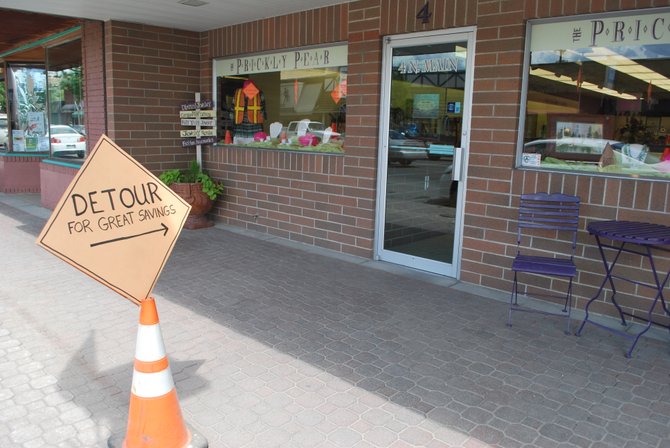 Chelsee Johnson
Taking every opportunity to get creative with advertising, The Prickly Pear in downtown Omak displays bright orange construction gear.
OMAK — Downtown streetscape construction has caused mixed feelings among business operators.
"It's progress; it's exciting," the Prickly Pear's Shana Hammett said.
Her store at 4 N. Main St. is making the best of a situation that other shop owners described as "a necessary evil" by advertising with bright orange construction signs.

Across the street and down the block, Novel Delights owner Jody Daubert isn't so optimistic about the work.
"It's definitely had an impact," she said. "Everyone turns at the AT&T store; nobody even wants to deal with going downtown."
She's concerned fewer customers will be walking in her bookstore doors at 19 N. Main St.
At least one other downtown business operator shares Daubert's concern.
Manager Jessica Baines of Magoo's restaurant, 24 N. Main St., said when she compares this year's books to last year's, there is a definite difference.
"Even if it's done by Stampede, that's our entire summer," Baines said.
However, A Cut Above owner Kathleen Baker said business hasn't been bad and a Needlelyn Time employee agreed, saying she hadn't noticed any effect.
City Administrator Ralph Malone said he understands both sides of the issue.
"Once the sidewalks are done, it'll go fast," Malone said.
In the meantime, most Main Street businesses have alley entrances, and some are allowing customers to enter through the back door to avoid construction.
According to Malone, the streetscape should be finished prior to Omak Stampede week, the second weekend of August.
The $430,000 streetscape includes new sidewalks, brick pavers, bulb-outs, improved crosswalks, street lights, bicycle racks, benches and paving.
It is the culmination of several meetings of a downtown merchants association, and it is being funded by a Complete Street grant awarded to the city for the amount of $430,000.
Bulb-outs would allow pedestrians to walk to the edge of the parking strip to see and be seen by traffic while still on the sidewalk.
Whenever the Department of Transportation does any road project, it is required to renovate the sidewalks to meet current standards.
For the past seven weeks, road crews have been installing handicap ramps on Main Street. This past week, crews have stepped up sidewalk work and some of the bulb-0uts have taken shape.
Paving is expected to start around the second week of July, Malone said.
It will take an estimated 11 days to grind the existing roadway away and another 11 to replace it with fresh pavement, he said.