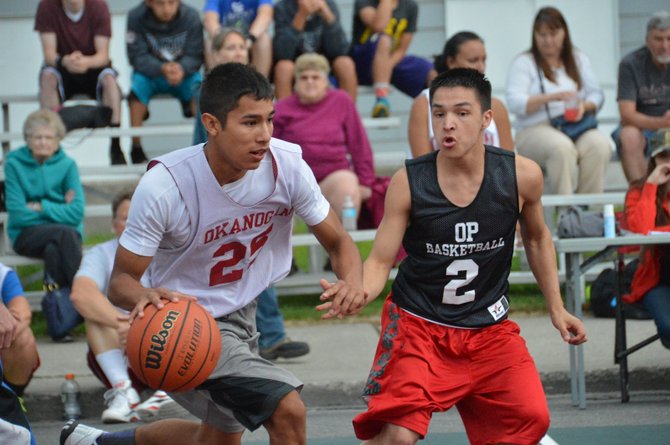 Photo by Al Camp
Okanogan's Justin Rivas drives past Omak's Layton Boyd during an alumni basketball game Friday night.
OMAK — Omak topped Okanogan on Friday night during an alumni basketball game between the Pioneers and the Bulldogs.
The game took place downtown during the Omak Battleground 3-on-3 tournament.
Coached by Braden Draggoo, Omak won this year's game, 88-77. Okanogan was coached by Naomi Boesel.
Scoring:
Omak — Jeremiah Riggle, 13; Blake Marchand, Michael Bush and Ashley Baker, 12; Brandon Kohler, 11; Country Pakootas and Sonny Sellars, 6; Jojo LaGrou, 5; Jesse Riggle, 4; Matt Stewart, 3; and Shawnee Covington and Leighton Boyd, 2.
Okanogan — Matt Shifflett, 19; Justin Rivas, 14; Jason VanderWeide, 7; Marty Staggs Jr., 6; Winston Grooms, Johany Fonseca and Jason Perez, 4; Nick Popelier, 3; Danny Parks, 3; Rosa Vargas, Esmerelda Mosqueda and Tim Jensen, 2.
Another alumni match is being planned for the fall in Okanogan High School's Dawson Gymnasium, 244 Fifth Ave. N.