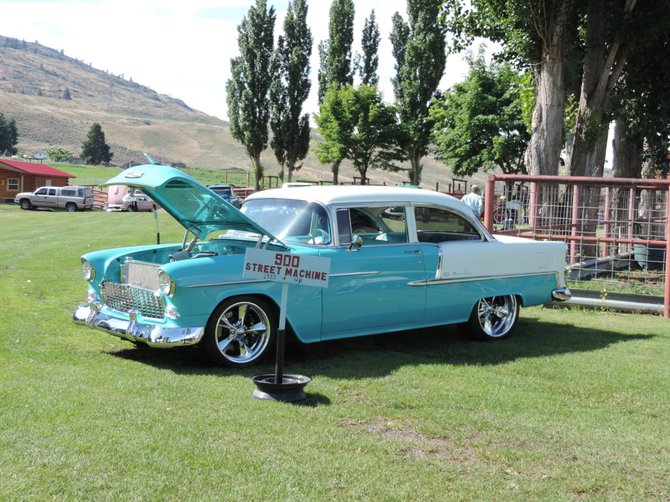 Dick Sweetman's 1955 Chevrolet Bel-Air took home best engine, best interior and first place in the street machine division.
TONASKET — The North Country Car Club hosted its annual Father's Day classic car show Saturday.
The event drew dozens of vehicles as well as car afficionados looking for a great way to spend the holiday weekend at home.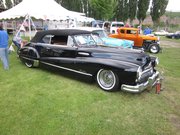 At the same time, car shows were also taking place in both Republic and Grand Coulee.
Here are the results of the Tonasket car show:
Best of show: 1949 Buick Convertible, Mike and Dorothy Sweeney.
Best engine: 1955 Chevrolet Bel-Air, Dick Sweetman.
Best paint: 1932 Chevrolet 5 window, Rick Golleher.
Best interior: 1955 Chevrolet Bel-Air, Dick Sweetman.
Motorcycle: 1971 Norton Commando, Jerry Jones.
1960-1975: first, Darrel Hickman, 1964 Chevrolet Nova; second, 1961 Corvair, Larry and Coralee Thompson; third, 1967 Ford Falcon, Sam Nau.
Classic 1980-up: first, 2007 Ford Mustang, Rob Nau; second, 2001 Pontiac Firebird, Devon Sementilli; third, 1994 Chevrolet Corvette ZR-1, Allan Enquist.
Custom: first, 1948 Plymouth Coupe, Jack Hopkins; second, 1956 Metropolitan Conv., Paul Yarnell.
Post War: first, 1948 Buick Convertible, Mike and Dorothy Sweeney; second, 1951 Ford Coupe, Hugh Glassburn; third, 1950 Ford Custom, Joe Shell.
Pre-War 1941-Older: first, 1932 Chevrolet 5 Window, Rick Golleher; second, 1925 Model T, John Brown; third, 1931 Model A, Ralph Otto.
Project: first, 1927 Dodge Pickup, Mursick Welding; second, 1957 Ford F-100, Shane Freese.
Street machine: first, 1955 Chevrolet Bel-Air, Dick Sweetman; second, 1968 Pontiac Firebird, Bob Cunningham; third, 1969 Chevrolet Camaro, Tom Bretz.
Street rod 1954-older: first, 1932 Ford Roadster, Jim Palmer; second, 1929 Ford Roadster P.U., Lee and Lola Orr; third, 1938 Chevrolet Coupe, Gerry and Kathy MacDonald.
Teenage: 1967 Red Flyer Custom, Chris Freese.
Tractor: first, 1951 Ford 8n, George and Patti Hill; second, 1950 IH Cub, Matt Deebach; third, 1949 John Deere B, George and Patti Hill.
Truck: first, 1955 Chevrolet P.U. Stepside, Arnie Wheatcroft; second, 1947 Chevrolet P.U., Bacon; . third, 1974 Chevrolet P.U., Jerry Anderson.
1400: first, 1957 Ford T-Bird, Fred Holmes.
Ton & Bigger: 1946 Studebaker 1.5 ton, George and Patti Hill.
Rat Rod: 1968 VW Rat, Dennis Farnsworth.