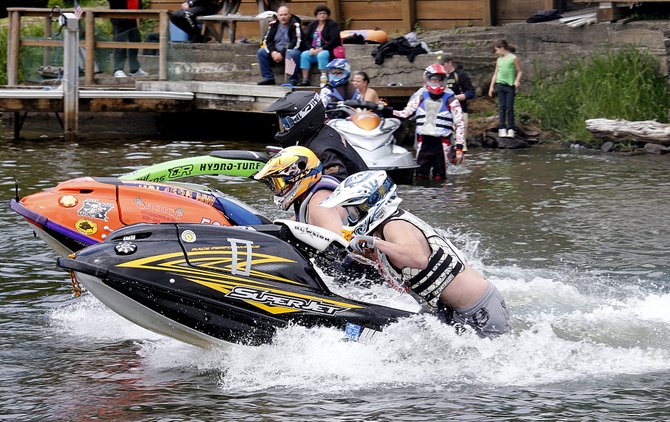 OROVILLE — Jet Ski racers and freestylers will be flooding into Deep Bay Park this weekend to kick-off a three-stop tour in North Central Washington.
And while race teams and volunteers have things just about ready to go, they're still short a couple wake boats necessary for a Big Air freestyle competition.
According to Northwest Jet Sports Association Promoter Roger Harnack, two wake boats are needed to create a V-wake, used by Jet Skiers to launch themselves high into the air.
"With two boats running parallel, our top freestylers can do barrel rolls and backflips," he said.
Wake boats and their captains would need to be available for a couple hours Saturday and Sunday for the aerial competition.
In addition to freestyle events, club members will be participating in closed-course watercross races and potentially an endurance race into Canadian waters and back.
Watercross is similar to motocross in that watercraft racers compete on a closed course will sharp turns and wide-open straight-aways. The difference is that course conditions change with each lap as the water churns.
The event is open to all Jet Ski owners interested in competing. To participate, racers have to be a member of the International Jet Sports Boating Association, and wear and helmet and lifevest. Stand-up ski racers are also required to wear back protection.
Racing events are slated from about 10 a.m. to 4 p.m. both Saturday and Sunday for youth through adult, stand-up and sit-down, and vintage and modern watercraft.
To volunteer or for other information, email Harnack at rharnack@gmail.com.
To join the association or for more information on watercraft racing, click here.