BEIJING — China's second largest news service didn't have kind words for former Washington Gov. Gary Locke after he bid the country farewell last week.
Locke, 64, wrapped up his stint as U.S. ambassador to China on Saturday after more than two years in the post.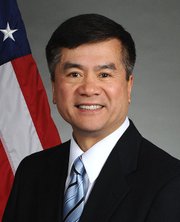 The day before his departure, China News Service referred to Locke as a "yellow-skinned white-hearted banana man," the South China Morning Post newspaper reported.
Locke, who served eight years as the state's 21st governor, was the first U.S. ambassador of Chinese descent to that country. He traced his family roots to Jilong, a village in Guangdong province.
"Locke not only does not understand the writing of his ancestors, but also failed to understand Chinese law," a China News Service commentary said. "He particularly likes to gesticulate profusely and criticize indiscriminately Chinese domestic affairs."
In farewell speech last Thursday, lock praised improving economic ties between the U.S. and China, but criticized his ancestral homeland on human rights, South China Morning Post reported.