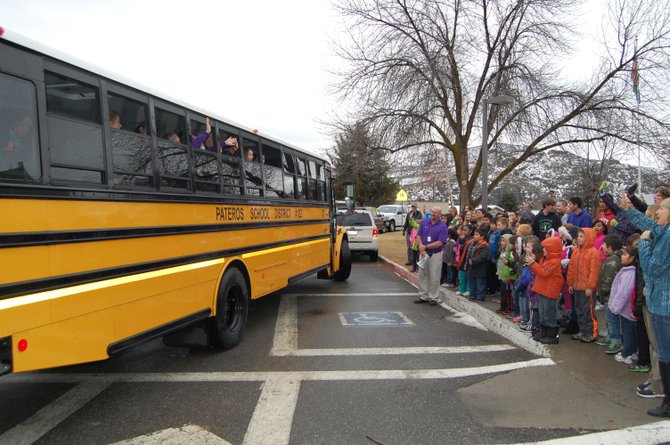 Photo by Jennifer Marshall
The entire Pateros school community waves goodbye and wishes the Nannies good luck Wednesday morning as they depart for the state 1B tournament in Spokane.
PATEROS — Waving and cheering from family, friends and fellow students greeted the Pateros High School girls basketball team this morning as they boarded a Spokane-bound bus for the state 1B tournament.
The girls were each given gift bags assembled by their parents.
"They just fill them with all kinds of little goodies," Principal Mike Hull said. "Everything from bubble gum to Rolaids because they might get an upset stomach or have nerves."
Hopes are high for the team as it prepares to play Wilbur-Creston at 7:15 p.m. tomorrow in the Spokane Veterans Memorial Arena.
"I've heard both coaches talking about how much they respect their opponents and I think they're taking the right frame of mind there," Hull said. "We're really, really proud of the girls basketball team."
He said the Nannies have a "pretty remarkable" record of 21-1 and hope to beat their fifth-place finish last year.
"We're shooting for maybe a little higher this year, if we can," he said.
Wilbur-Creston is undefeated and ranked No. 2 in the 1B league.
If Pateros wins, they're likely to face undefeated and No. 1 state-ranked Colton in the semi-finals at 9 p.m. Friday.
The whole school community — kindergarten through 12th-grade — gathers to bid farewell and good luck to all of its sports teams before they head to state, Hull said.
"We do that for everyone. The kids like it, the folks going to state appreciate it and it's fun," he said.