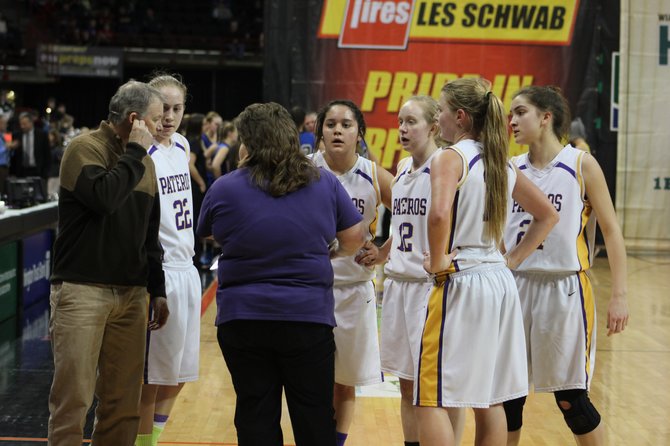 Photo by Roger Harnack
Pateros Coach Sheri Mortimer gives her team a pep talk as the clock ticks down in Thursda's state 1B girls opener against Wilbur-Creston.
SPOKANE — The Pateros Nannies avenged last year's state-tournament loss to Wilbur-Creston, sinking the previously undefeated Wildcats' hopes for a state title.
"I am amazed beyond words," Pateros School District Superintendent Lois Davies said seconds after watching the Nannies take a 51-47 victory in the state 1B Hardwood Classic tournament.
Pateros Coach Sheri Mortimer and her girls didn't take much time celebrating.
The girls dashed off the court to get cleaned up so they could return to watch undefeated Colton take on Tulalip Heritage. The Nannies will face the winner of that game at 9 p.m. tomorrow night in Spokane Veterans Memorial Arena in the state semifinals.
"We're always up for a challenge," Mortimer said. "And Colton is the No. 1 team in the state."
Colton players had likewise taken a seat for the Pateros vs. Wilbur-Creston game.
Prior to the state tournament, Pateros, Wilbur-Creston and Colton were undefeated in 1B games.
Nannies' stand-out player Lorie LeDoux took time to reflect on Thursday's win, but said her and her teammates will have to come out on fire tomorrow if they hope to beat the defending state champion Colton Wildcats (23-0).
"For Colton, we'll need to step it up," she said.
LeDoux was a big factor in the victory over Wilbur-Creston. She led all scorers with 19 points. Pateros other top scorers were Vanessa Figueroa with 11 points and Jessi Dowers with 10.
Rhiannon Easter received the sportsmanship award after the game.
The top scorers for Wilbur-Creston were Kaelee Reed, 15 points, and Jessica Boyer, 13.
Looking back on the game, LeDoux said the last couple minutes were "crazy."
With 3:36 left in the game, Wilbur-Creston had a 40-39 lead.
But Boyer fouled Figueroa and sent the Pateros player to the free throw line.
She made her first, but her second hit the backboard and rolled off the front of the rim.
LeDoux grabbed it and put it in for 2 points, giving the Nannies a 42-40 lead.
As the clock ticked down to 2:22, Elizabeth Brudevold put up 2 more points for Wilbur-Creston. LeDoux answered with two of her own and Figureo hit a three-pointer with 1:49 left in the game.
Pateros had a 49-44 lead at that point, the biggest lead it had at any point in the game.
The clock continued to tick down.
After being fouled, Reed made the second of two free throws for the Wildcats with 43.9 seconds remaining.
Wilbur-Creston pressed hard, but LeDoux scrambled to tick off another 20 seconds bringing the ball upcourt.
The Wildcats fouled her and she hit another free throw, which was followed up by a Boyer shot for 2 points for Wilbur-Creston with 7.5 seconds left.
Pateros ran out the clock for the victory.
LeDoux said her teammates were focused, but not nervous, in the closing minutes.
"We boxed out like we know how to do," she said.