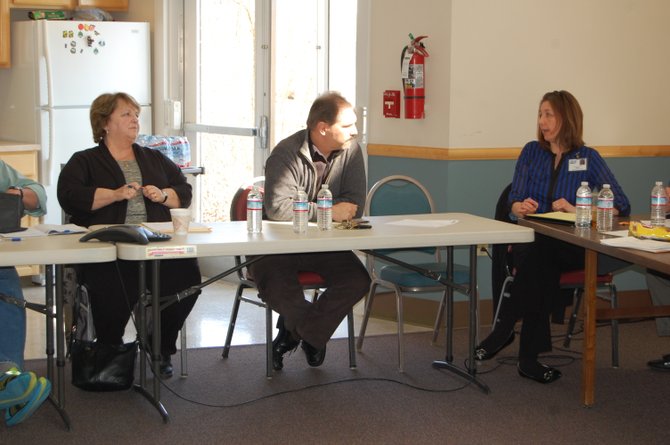 Photo by Jennifer Marshall
Three Rivers Hospital commissioners Vicki Orford and Tracy Shrable, from left, debate future interview schedules with Human Resources Director Anita Fisk.
BREWSTER — Three Rivers Hospital commissioners narrowed their CEO search down to three finalists today, one of which is the Coulee Medical Center administrator.
During the course of the interviews, only two candidates shared enough information to point to their identities:
"S" is Coulee Medical Center CEO Scott Graham.
"D," the candidate who didn't make the final cut, is David Abercrombie, CEO of Madison County Memorial Hospital in Madison, Fla.
The other candidates, L and E, didn't give away their precise locations, and L noted she's currently in Idaho.
State law permits the hospital board to withhold the names of applicants, but does not require privacy.
The Chronicle has challenged the Three Rivers process, calling for information on all of the candidates to be made public.
The State Attorney General's Office has also encouraged the board to be more open with the hiring process.
The commissioners spent more than five hours this morning interviewing four candidates over the phone, then moved into executive session to discuss their qualifications.
In-person interviews are planned for the week of March 24, although a final schedule is in the process of being worked out.
In an open public meeting, commissioners Vicki Orford, Michael Pruett, Tracy Shrable and Jerry Tretwold, along with committee member Michael Zoretic and current CEO O.E. "Bud" Hufnagel, each shared their Top 3 choices.
The board then voted to invite the finalists candidates L, E and S to come for interviews and tours of the hospital and community.
Orford said the hospital will continue to keep the names confidential until they are notified they're finalists.
On behalf of the board, Chairwoman Orford asked 13 questions – all the same – of each candidate. It led to discussions about each candidates' management style and vision, and the hospital's financial troubles, new government regulations coming down the pike and recruiting physicians.
Pick up Sunday's edition of The Chronicle for the full story from today's interviews.