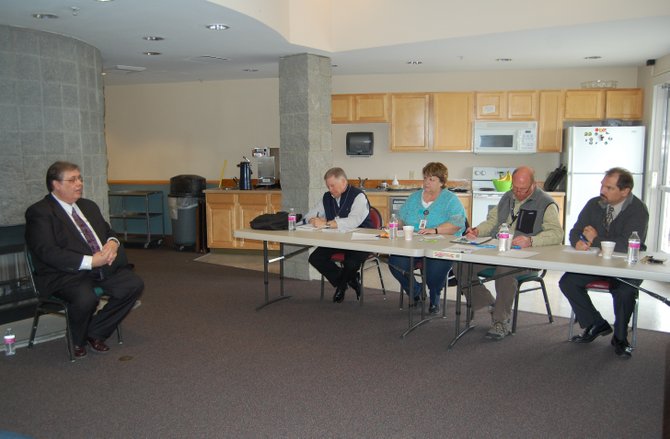 Photo by Jennifer Marshall
Three Rivers Hospital commissioners interview Coulee Medical Center CEO Scott Graham on Tuesday morning.
BREWSTER — Coulee Medical Center's CEO may soon take the reins of Three Rivers Hospital as the top administrator.
Scott Graham was offered the job today, board Chairwoman Vicki Orford said, after a morning of public interviews and executive sessions with Graham and the other finalist, Eugene Suksi of Crescent City, Calif.
"The board stands united that Scott Graham is the best candidate to fill the CEO position at Three Rivers Hospital," Orford said. "We are basing this on extensive research, skill sets, best fit, interviews and previous employers.
"We are fully confident that Scott will help move Three Rivers Hospital forward in the future environment of rural health care."
Orford said the board will begin contract negotiations with Graham after April 3. The current CEO, O.E. "Bud" Hufnagel, is leaving April 30. He resigned in December.
Graham was in a meeting this afternoon at Coulee Medical Center and could not be immediately reached for comment.
A handful of hospital employees attended the interviews, but commissioners Jerry Tretwold and Michael Pruett expressed disappointment no residents attended. The board had scheduled time to allow the public to ask questions of each candidate.
Graham and Suksi each answered the same questions from the board, ranging from their opinions on reducing warrants and rebuilding community support to their management style and personal goals.
Many of the responses each candidate provided were similar – they like to be involved in their communities, believe in transparency and being available to hospital staff and said new technology would be one of the most surefire ways to recruit new physicians.
Graham referred briefly to the recent controversy at Grand Coulee's hospital, where commissioners have decided to hire an independent consultant to determine if they have cause to fire him.
He did not go into specific details.
When asked about his thoughts on the media, he said: "This has not been a comfortable experience for me. But I also try to go forward with the understanding that there's only been one side of the story that's been able to be portrayed. Because of my role and regulations, haven't been able to do an in-depth interview.
"Most things portrayed are just opinions, not facts."
In a telephone interview with Three Rivers commissioners last month, he said he had moved forward with a plan after receiving direction and support, but a few board members changed their position to side with some unhappy employees.
"Due to the regulations, Scott was not able to state his side of the conflicts of why he is leaving Grand Coulee," Orford said. "We respect his integrity and his professionalism."
Graham has been CEO at Coulee Medical Center for five years.
More from this morning's interviews will be in this Sunday's edition of The Chronicle.