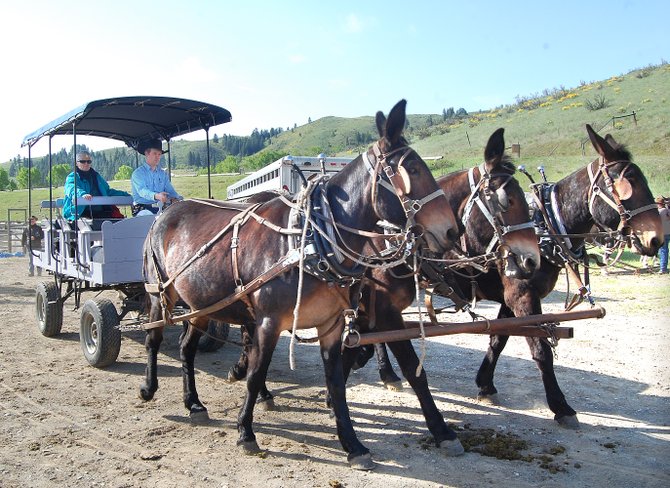 Photo by Jennifer Marshall
Three mules pull an old-fashioned wagon through the Winthrop Rodeo Arena on Tuesday morning before the start to the 16th annual, four-day Ride to Rendezvous.
WINTHROP — Sporting chaps and cowboy hats, 150 horseback and wagon riders departed on the second leg of their Ride to Rendezvous this morning.
The route took them down through Twisp yesterday after leaving from the camp set up Monday night at the rodeo grounds off Twin Lakes Road.
Mostly, they'll stick to primitive roads, fields and trails as they traverse the Methow Valley for the remainder of the week.
The 80-mile "Round the Valley" trip has been taken only twice before in the ride's 16-year history. The group, led by the Washington Outfitters and Guides Association, will make their way around Davis Lake, Bear Creek and the Chewuch River and Rendezvous areas before arriving in downtown Winthrop at noon Friday to kick off the annual '49ers Days celebration and 25th annual Packer's Rendezvous.
"It's fun," Granite Falls residents and first-timers Evelyn Orona and Caroline Tarpley said as they waited for the ride to get under way yesterday morning. The women rode with four others – Gordon and Rebecca James of La Conner, Rebecca Short of Klamath Lake and driver Dennis Jaspers. He was driving the wagon for John and Debbie Schrock of Sun Mountain Lodge in Winthrop.
As members of the Outfitters packed up tents and cooking supplies for the trip, Catha Link of Leavenworth made sure two horses were fed and watered.
"It's a beautiful day," she said, looking toward the mountains in the distance.
Link said it would be easy to pack on a few pounds throughout the ride because of the plentiful variety of cuisine served.
"It's Dutch oven cooking," she said. "I bet some people come just for the food."
The Outfitters will stay in Winthrop through the weekend and host events, from meals to cowboy music and a mule-packing contest, throughout the weekend.