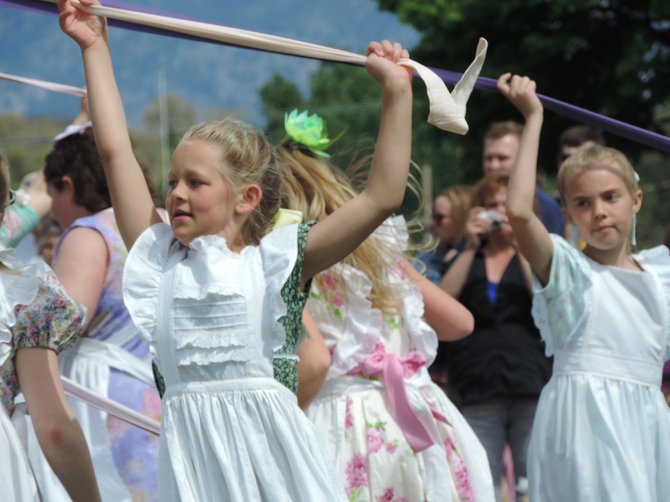 Photo by Brock Hires
May Pole dancers concentrate on winding ribbons during the 80th annual Oroville May Festival. The May Pole Dance has been a festival fixture from the beginning.
OROVILLE — Two school groups won top awards during the Oroville May Festival parade Saturday.
The freshman class won the queen's choice award and the senior class entry was named best float. Winners were named in a variety of categories:
Royalty – 1 (tie), Oroville Senior Citizens, Penticton Peach Festival and sophomore class. 2, senior class. 3 (tie), junior class, third-grade royalty.
Cars, boats and motorcycles – 1, P&D beer wagon. 2, 1930 truck/Henderson. 3 (tie), Dodge Viper/Pellegrini, 1969 Camaro/Peterson.
Tractors – Grand, 1953 John Deere/Jim DeTro (plaque). 1, 1952 Allis Chalmers/Gerth. 2 (tie), 1939 Oliver Row Crop/Wolley, Oliver Flag/Wolley. 3, 1946 Oliver Super/Wolley.
Community – Grand, Garden Club (plaque). 1, Senior Citizens. 2 (tie), Masons/Shriners, UCMI Motorcycles. 3 (tie), Tonasket Lions Club, Blues Festival.
Community youth – 1, Girl Scouts.
Horse units – 1, Border Patrol. 2, Hughes Department Store. 3, Trailriders.
Senior school – Grand, senior class royalty (plaque). 1, freshmen class. 2, junior class. 3, Tonasket band.
Junior school – 1, third-grade royalty. 2 (tie), sixth-grade royalty, May Pole Dancers. 3 (tie), eighth-grade royalty, seventh-grade royalty.
Law enforcement – 1, U.S. Border Patrol. 2, Okanogan County Sheriff. 3, Smokey Bear.
Commercial – 1, Oroville Building Supply. 2, P&D beer wagon. 3, JC Lawnmowing.
Miscellaneous – 1, Grange/IOOF Hall.