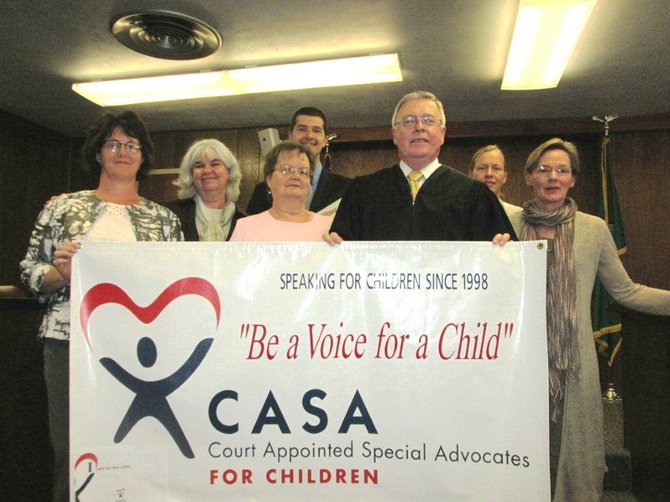 Photo by Jennifer Marshall
New volunteers are sworn in as Okanogan County Court Appointed Special Advocates. From left are Coral Krueger, Diana Prince, Marian Cox, Eli Hamblet, Superior Court Judge Henry Rawson, Jennifer Ward and Patricia Leigh.
OKANOGAN — Six new volunteers took oaths to help abused and neglected children this month for the Okanogan County Court Appointed Special Advocates program.
Better known as CASA, the new volunteers were sworn in May 1 by Superior Court Judge Henry Rawson, according to CASA Coordinator Tara Serles. They join eight other volunteers, all trained community members who work with the county's juvenile dependency court system.
"Our volunteers pledge to stay with each child until the case is closed, and the child is placed in a safe, permanent home," she said. "The advocate is often the only consistent adult presence in the child's life."
CASA volunteers meet with children regularly, observe them in their homes and are authorized to interview people in the child's life such as social workers, attorneys, and teachers. They attend court hearings with the child and report their findings to the judge.
In a previous interview with The Chronicle, Serles said volunteers typically commit several hours per month to their cases, but are typically only given one or two cases at a time.
Currently, CASA has a workload of more than 90 active cases, so the program is always looking for more volunteers.
Applicants should be at least 21 years old and must pass a background check and complete 30-40 hours of training.