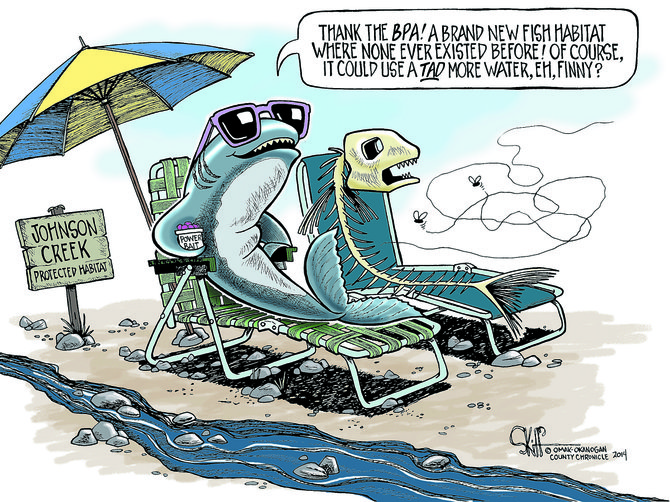 PUD should back off Enloe plan
I was deeply saddened by PUD Commissioner Ernie Bolz's negative comments on the alternative plan prepared by the Enloe Dam Removal Work Group, published May 11. It shows the same disregard of public opinion and interests that has plagued the utility for more than a decade.

This license application began quietly in 2005. Most of us were left completely out of the loop. There were no public hearings, news articles or releases. There was only talk about another project, a high hydroelectric dam at Shankers Bend, which the public and the state largely rejected as unfeasible.

Enloe was in the shadows.
The rupture of financial and housing markets in late 2007 caused the collapse of energy prices and should have sounded alarm bells at PUD headquarters. Mid-Columbia wholesale energy prices fell from $66/MWh to $22/MWh. Although prospects had looked good a few years earlier, by 2008, our commissioners, managers and engineers should have realized at these new low energy prices that power production at Enloe Dam would not pay for operation.

An independent economic review of the project was privately funded and prepared by Rocky Mountain Econometrics. It was submitted to the PUD in early 2010. Using PUD data and market prices, it clearly indicated the project would lose an estimated $1.2 million annually, a $26 loss for every megawatt-hour produced. Bolz wrote the study off saying we were "just blowing in the wind."
Now, the PUD claims the project will be viable in 20 years. Prove it. Let's see the numbers in your equation, commissioner.
Just last May before the FERC license was issued, Bolz told concerned ratepayers, "If we don't produce power at Enloe the BLM will require the PUD to remove Enloe Dam and the 2.4 million cubic yards of sediments behind it, all at ratepayer expense." Project Engineer Dan Boettger estimated the cost could be $1 billion.

The plan presented by the Enloe Dam Removal Work Group clearly shows both these PUD contentions are false. The PUD is not going to bear any costs associated with dam or sediment removal. The actual cost of the five-year plan is $35 million. The study also shows $47 million in available funding from downstream utilities, agencies, tribes and private sources.

Bolz also said at a public meeting at the "Taj Mahal" PUD headquarters this year: "If someone would take responsibility for all liabilities associated with this project including sediment and dam removal, I would turn it over to them for $1, and walk away." Commissioner, it is time to start walking.

Joseph Enzensperger, Oroville
---
---
Forest leadership says no to ATVs
The Okanogan-Wenatchee National Forest leadership has been actively engaged in conversation with community members regarding how the implementation of the new state law for off-highway vehicle usage will impact the forest.
We spent the last several weeks working closely with other staff throughout the Pacific Northwest Region of the U.S. Forest Service, including our legal counsel, to determine what this legislation means for our public lands.
According to our best analysis, the new state law (based on House Bill 1632) does not change the management or policies on any public lands, including national forest.

State law 1632 defines "non-highway" roads as those roads owned or managed by a public agency, which includes the U.S. Forest Service. Section 7 of the law says these non-highway roads are excluded from the law.
Therefore, off-road vehicles can only be allowed on roads designated specifically for such use. Forest Service personnel will continue to work with the public we serve to implement policy and legislation in an effective manner.
Okanogan-Wenatchee National Forest has some areas designated for off-road vehicles that are open, and will remain so. Maps of those areas are available at forest offices and on our website.
Our interpretation of the legislation is that until we complete the process of designating specific roads for off-road vehicle usage, their use remains restricted. The key to clarity regarding this matter is for the forest to complete the travel-planning process.
In the meantime, we are looking at some possible options based on existing analyses, which could allow off-road vehicles to use some of the forest roads open to other motorized use.
Okanogan-Wenatchee National Forest looks forward to working with our partners and communities on these endeavors and welcomes feedback.
Michael L. Balboni, Forest supervisor  
---
---
Rural Americans will not sell out  
Sold-out bureaucrats thoroughly despise those of us real-world bumpkins who deeply believe in our revered Declaration of Independence, and in our declared creator and provider.
We are those who still believe in our Bill of Rights and our whole Constitution. We are those who still believe in all our property rights. We are those who defend our founding Christian standards and values.
We are those who defend us all against predatory intrusions, appropriations, harassments and extortions by mercenary bureaucrats. We are those who resist federal government seizure of national power through domination, oppression and terror against all Constitutional principles.
We are those who will not sacrifice Christian standards, morality and health. We are those who oppose an executive branch one-man-dictatorship.
We are those who reject treason, parasitism, predation, Marxism, jihad and sold-out bureaucracy. We are those who oppose having unconstitutional impostors living in our White House.
We Americans firmly defend only what is right and just—not this predatory and parasitic bureaucracy. We demand the nation we once were — not the Obama version.
We real Americans remain simple, honest bumpkins. We don't know a better way. Do you?
No impostor must betray our simple faith without paying the price in the hangman's noose.
Ward Hartzell, Twisp
---
---
Change street sweeper schedule
Why does the street sweeper always come around at approximately 4:30-5 a.m. to clean the streets and wake everyone up?
Wouldn't it be smarter to do the streets downtown when there are no vehicles? And then when people go to work, do the side streets?
At that time, the side streets would be vacant of most cars and people wouldn't be awakened by the sound of that obnoxious machine.
Only a thought.
Jim Mastey, Omak
---
---
Meth sentences should be strict
I recently read about a 23-year-old in my city who pleaded guilty to the distribution of methamphetamine and was sentenced to three months.
The drug is so highly addictive and lethal, 90 percent who use it will never kick the addiction.
A three-month sentence? What was the judge thinking? How will we get ahead as a community with such a lenient penalty for poison?
If the prosecuting attorney gave in to the defense, they should be ashamed and give us someone else.
Please rid yourself of your position in this community.
Meth is getting into the hands of the kids. We're about protecting our children, right?
Josh Richards, Omak
---
---
Okanogan doing something right
Just last week, I made a trip up to Okanogan to visit a friend. We stopped in a delightful new coffee shop with a wide range of goodies on the menu.
This cute restaurant was so delightful that I just had to give the town of Okanogan a big high-five for all cute shops now popping up all over.
Keep up the good work and you will have many more visitors stopping by and buying.
Nancy Albert, Wenatchee