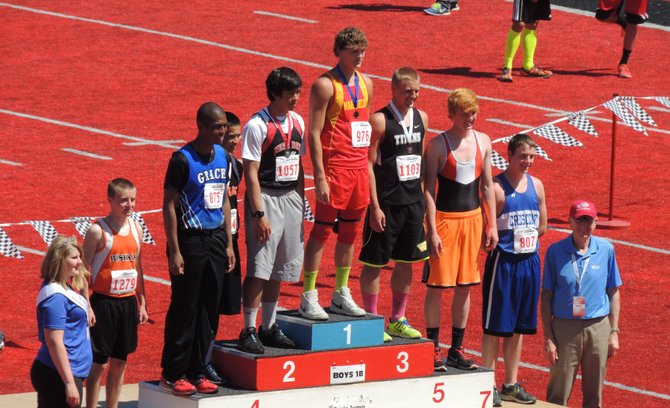 Photo by Roger Harnack
Macen McLean of Mansfield stands atop the winners' podium Friday after winning the state 1B triple-jump competition in Cheney.
CHENEY — Several North-Central Washington athletes won gold Friday during the first day of competition at the state meet at Eastern Washington University.
Sierra Speiker of Oroville, Matthew Wade of Republic, Macen McLean of Mansfield and Austin Watson of Liberty Bell all grabbed a gold.
Meanwhile, Republic freshman Shania Graham broke an existing state record, but still finished with a silver medal.
Watshon took gold in the state 2B boys long jump competition with a leap of 22 feet 5 inches.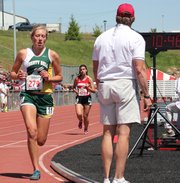 McLean earned his gold in the 1B boys triple-jump with a distance of 43 feet 3 inches, more than a foot further than second-place finisher Elisha Winck of Neah Bay.
Wade struck gold for Republic in the 1B boys discus, with 122 feet 8 inches.
In girls action, Graham made a bid for the 1B girls 3200m title and broke the existing state record set last year by Entiat's Emily Wooldridge with time of 11 minutes 52.24 seconds.
Taking the lead temporarily on the last lap, she was edged at the finish line by Kelsey Browning of Waterville.
Browning's winning time and new state record was 11 minutes 42.75 seconds. Graham was less than a half-second behind with 11 minutes 43.19 seconds.
In the girls 3200 race in the 2B class, the race was all Speiker.
At the end of the first lap, Speiker had 150m lead on the rest of the field, a lead she would continue to build on throughout the race.
At the finish line, Speiker was alone with a new state record time of 10 minutes 50.96 seconds — 5.34 seconds faster than the previous record set in 1987 by Shelly Smathers of Morton.
Liberty Bell's Claire Waichler was among those medalling behind Speiker. The 10th-grader finished fifth with a time of 12 minutes 17.03 seconds.
For more from the state 1-2B/1A track tournament, see the upcoming Wednesday edition of The Chronicle.