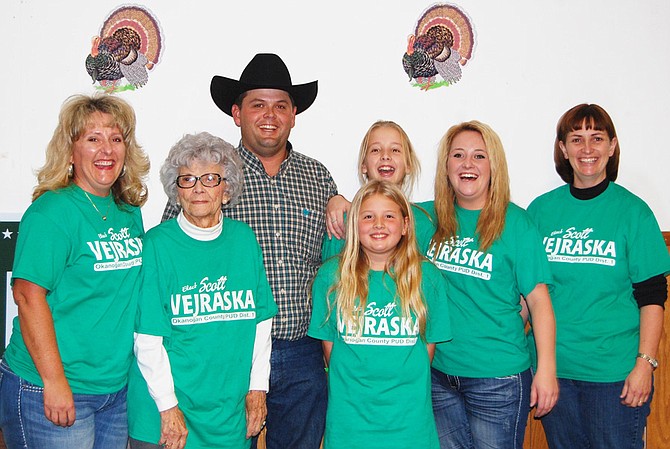 Photo by Brock Hires
Scott Vejraska celebrates his utility commission victory Tuesday night with female family members and supporters.
OKANOGAN — Challenger Scott Vejraska is on track to unseat 12-year incumbent Dave Womack in the race for Okanogan County Public Utility District position No. 1.
In unofficial election night returns, Vejraska garnered 2,876 votes, or 53.01 percent, to Womack's 2,549 votes, or 46.99 percent.
Vejraska, 37, said he's pleased with his lead and feels it will hold up until the election is certified Nov. 25. Another ballot count is planned Friday.
"It's a win for the ratepayers," he said.
Womack, 53, could not be reached for comment.
Vejraska is a third generation rancher and an Omak High School graduate. He works as a lineman for the Nespelem Valley Electric Cooperative.
Before being elected to the non-partisan utility commissioner post, Womack previously served 15 years as an Omak City Council member. He has been the meat market manager at Gene's Harvest Foods for more than 33 years.
As of election day, 9,440 ballots had been returned out of 21,384 ballots mailed out, with about 2,800 that were not counted election night because they were received Monday and Tuesday and had not been processed, the Auditor's Office said. Turnout was 31.26 percent as of election night.
Another 11,734 ballots had not yet been returned. They must bear a postmark of Nov. 4 or earlier to be counted.
The next ballot count will be Friday.