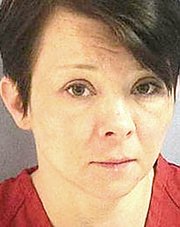 TONASKET — Former Tonasket High School librarian Elizabeth A. Kinkade is facing a new charge following a late night disturbance.
The Okanogan County Sheriff's Office confirmed today that Kinkade, 38, and her husband, Mark Kinkade, were both arrested early Sunday morning following a domestic disturbance.
Kinkade allegedly violated a no-contact order by calling the victim in a sex case involving her and a former student. She was previously told by the court not to contact the victim.
Her husband is facing a charge for alleged domestic violence from the distrubance.
See The Chronicle's Wednesday edition for the full story.