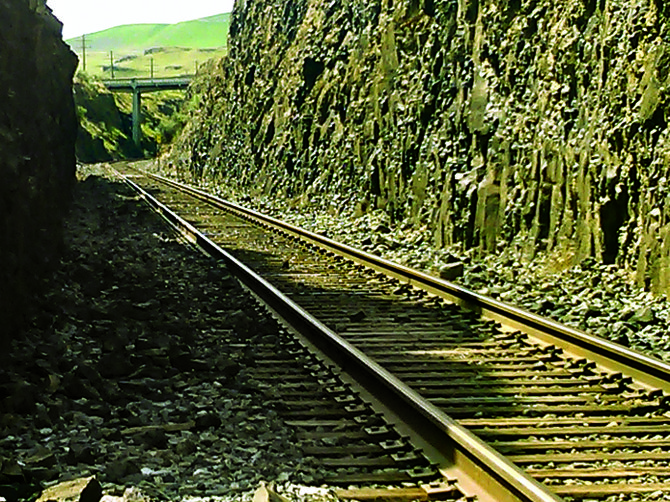 Photo by Roger Harnack
Railroad tracks run through a canyon carved in the basalt rock near Palouse Falls.
EPHRATA — State Department of Transportation officials will host three community meetings on improving the rail system in Eastern Washington.
Officials hope ranchers, farmers and other rail system users will participate in one of the meetings to talk about needed improvements and operational changes for shippers and producers on the Palouse River and Coulee City Rail System.
The meetings are:
Oct. 30 — 12:30-2 p.m., Ephrata City Hall, 121 Alder St., Ephrata.
Nov. 13 — 2:30-4 p.m., Spokane Regional Transportation Council, 221 W. First St. Suite 310, Spokane.
Dec. 9 — 12:30-2 p.m., Clarkston City Hall, 829 Fifth St., Clarkston.
"Our planning staff needs your ideas and help to get our rail systems on track," Transportation's Freight Systems Division Director Barbara Ivanov said.
The state-operated Palouse River and Coulee City Rail System consists of three lines carrying freight through Spokane, Lincoln, Grant and Whitman counties.
Officials said the rail line carried 20 percent of wheat grown in the state last year, keeping 37,000 truckloads off highways.