TONASKET — The sentencing for former Tonasket High School librarian Elizabeth Kinkade is was postponed Tuesday in Okanogan County Superior Court.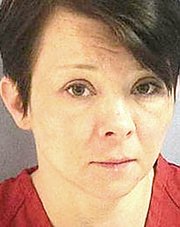 "This is by agreement, to establish global resolutions," Kinkade's Tonasket-based attorney Anthony Castelda said Tuesday in court requesting a delay in sentencing.
Judge Chris Culp rescheduled sentencing for 9 a.m. Oct. 31, in Superior Court.
Kinkade, 38, was originally charged with five counts of first-degree sexual misconduct in connection with allegations of intimate relations with an 18-year-old male student she met at school, court records show.
Kinkade pleaded guilty to one count of first-degree sexual misconduct with a minor, Aug. 19.
"Between the months of April 2014 and May 2014, I did engage in sexual intercourse with an enrolled student of the Tonasket High School, who was at least 16-years-old, but no more than 21 years old, to whom I was not married," wrote Kinkade in a letter to the court. "During this time I was employed by the Tonasket School District.
"I was 60 months older than the individual at the time of the occurrence."