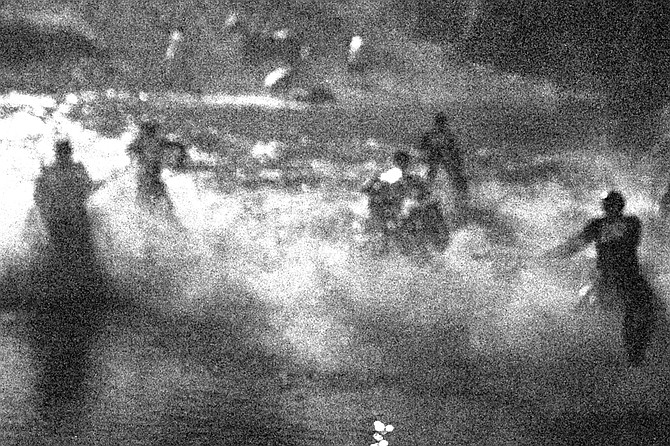 Photo by Roger Harnack
Horses swim the Okanogan River after coming down the suicide race hill on Thursday night.
OMAK – Taz claimed first place in the opening night of the World-Famous Suicide Race yesterday. Taz was ridden by Loren Marchand and owned by Jim Phillips.
Three horses took tumbles on the Suicide Race Hill.
Two horses, Chief, ridden by Rocky Timentwa and owned by Preston Boyd, and Gravy, ridden by Louis Zacherle and owned by Don Frazier, were able to get across the Okanogan River.
Mad Max, ridden by Fran Marchand and owned by his dad, George Marchand, died from a broken back.
The horse was retrieved from the base of the hill and returned to the Marchand ranch later in the night.
More on the race will appear in The Chronicle's Sunday edition.
Results:
(Horse, jockey, owner)
Taz, Loren Marchand, Jim Phillips
Spade, Tyler Peasley, Montana Pakootas
BoShay, Oliver Pakootas, Angel Vargas.
Eagle Boy, Scott Abrahamson, George Marchand
Jackpot, Henry LaCourse, Bronson Peterson