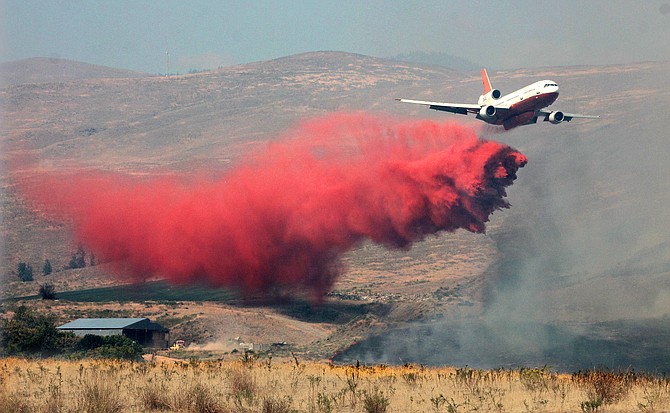 Photo by Roger Harnack
An aircraft flies low over the Scotch Creek area near Conconully dropping fire retardant on the dry grass and sagebrush.
OMAK — Firefighters continue to battle a pair of fires north of town, but fire in the city area has been largely knocked down.
Evacuation notices were issued this afternoon for the flats north of town and the western edge of the Colville Indian Reservation from Riverside to tribal housing north of Omak.
The Lime Belt Fire burned across the Conconully Highway at Scotch Creek and continues to burn southwest of that town, fire officials said. It has spotted some into the Green Lake/Salmon Creek valley.
The Tunk Block Fire headed south from the hills east of Riverside toward the housing area, officials said. It also jumped the Okanogan River a mile south of Riverside and then U.S. Highway 97, where it took off up the hill to the west onto Pogue Flat.
Meanwhile, an evacuation notice was issued for the area of North Pine Creek and Stalder Road to South Pine Creek because of a separate fire burning in that area.
To the east, a Level 3 evacuation notice was issued for Nespelem because of the North Star Fire.
Meanwhile, fire officials working on blazes throughout North-Central and Northeast Washington have announced three informational meetings for tonight and announced a change in fire danger rating to "extreme" for the area.
Extreme is the highest level under the National Wildfire Preparedness system.
Several large wildfires are burning actively in the area. They include:
Okanogan Complex – Five fires make up the complex: Lime Belt, Nine Mile, Tunk Block, Blue Lake and Beaver Lake. As of Tuesday afternoon, both the Lime Belt and Tunk Block fires were burning aggressively, with the Lime Belt fire burning through the Scotch Creek area and jumping the Conconully Highway at mid-afternoon. The Tunk Block fire was burning southward east of Omak-Riverside Eastside Road and on the west side of the Okanogan River toward the flats north of Omak. The lightning-caused fires have burned more than 12,400 acres and are zero percent contained. The Nine Mile Fire, which started last week, is 80 percent contained. It is five miles east of Oroville and is 80 percent contained. One home has been destroyed.
The Black Canyon Fire, eight miles west of Pateros in Okanogan County, is zero percent contained and has burned 4,667 acres. It was caused by lightning. Homes and structures are threatened.
North Star – The fire is 12 miles north of Nespelem on the Colville Indian Reservation. It has burned 30,559 acres and is zero percent contained. On Tuesday night it moved south toward Nespelem. Haden Creek to Moses Meadows is under Level 3 (highest) evacuation notice. North Star and Gold Lake Road have Level 1 notices. About 175 homes are threatened, along with 150 other structures and livestock. Several road closures are in place.
Kettle Complex – The complex includes the Stickpin, Graves Mountain, Roy Road and Renner fires in Ferry County. The Stickpin Fire is at 35,530 acres and is uncontained. The likely started from a lightning strike. No structures have been destroyed, but 2,400 homes are threatened and 1,150 other structures are threatened. Graves Mountain Fire is north of state Highway 20 and has burned across 1,300 acres. It is not contained and is near Bonneville Power Administration lines. Roy Road Fire is west of Republic in Ferry County and has burned 120 acres. Four structures are threatened. The Renner Fire, at 75 acres, is not contained. It is threatening homes and other structures.
Marble Valley Fire – Located 10 miles south of Colville on Marble Valley-Basin Road west of U.S. Highway 395 in Stevens County. The fire, of unknown cause, is 10 percent contained. Most fire growth has been from burnout operations to secure fire lines. So far, the fire has destroyed one home, with 250 more threatened. Fourteen other structures have been destroyed, with 75 others threatened.
Carpenter Road. The lightning-caused fire is uncontained and is burning 20 miles west of Springdale near state Highway 25 in Stevens County. It has burned 5,000 acres, and possibly more. Structure protection is a top priority. Five homes and 15 other structures have been destroyed in Coyote Canyon. Almost all the homes along Titus Canyon were destroyed, along with three from Coyote Canyon. There has been one death of a civilian (non-fire personnel). The deceased has been removed from the scene.
Gold Hill – The fire is a mile north of Kettle Falls in Stevens County. It has burned 600 acres and is 10 percent contained. The lightning-caused fire is threatening 40 homes and 60 other structures. A small, separate fire is burning north of Pingston Creek Road, which is closed.
Kaniksu Complex – The Baldy Fire, at 515 acres, is 80 percent contained and is six miles northwest of Ione. The Tower Fire, north of Newport in the Colville National Forest, is 5 percent contained. It has burned 7,743 acres.