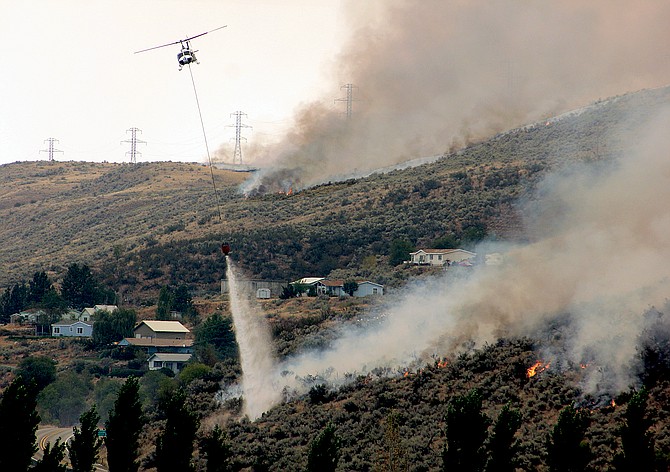 Photo by Roger Harnack
A helicopter drops water on the burning hillside above Riverside earlier today.
OKANOGAN — Fire officials — from the national Type 1 management team down to local firefighters — are girding for the next possible wave of fire growth in the Okanogan Complex.
The complex – made up of the Tunk Block, Lime Belt, Blue Lake, Beaver Lake and Twisp River fires – has destroyed numerous homes from Twisp to Tunk Valley and blackened more than 30,000 acres. Judging from a map shown during a media briefing Thursday afternoon, the figure does not include any of the rural area around Omak.
A Red Flag Warning is in place through 5 p.m. Friday for a cold front today and increased wind and a chance of thunderstorms. Winds are expected to be from the southwest at 10-15 mph with gusts up to 25 mph today and from the west to northwest at 15-25 mph with gusts to 30 mph tomorrow.
Fire behavior is unpredictable and constantly changing, said Nathan Rabe, incident commander for Washington Incident Management Team 2. His team is in the process of turning over management of the fire to a national Type 1 team.
"This is extreme fire behavior," he said Thursday afternoon. "I have not seen such behavior in 33 years of doing this."
"The intensity (of the fires) is hard to describe in the right terms," said Commissioner of Public Lands Peter Goldmark, who visited the county Wednesday.
Okanogan County fire crews battled the Nine Mile Fire last week, then the Reach Fire erupted in Chelan and Douglas counties, with some fire in Okanogan County.
Then the Tunk, Conconully and Twisp River fires "hit us all at once," county Emergency Manager Maurice Goodall said. "Things just started flying, falling apart."
He said structures have been lost, but he does not have a count of how many since the fires remain active.
Okanogan County Sheriff Frank Rogers agreed. He said he's aware of some losses on Omak-Riverside Eastside Road, the flats north of Okanogan and in the Methow.
Evacuation notices have been issued for the Twisp River Fire, burning west of Twisp, and an area stretching from Spring Coulee/Salmon Creek and Loup Loup Meadows to Aeneas Valley, and from south Omak to Pine Creek.
Meanwhile, the Colville Confederated Tribes is battling the North Star Fire north and east of Nespelem, with evacuation notices issued for Moses Meadows to state Highway 21 northeast of town.
Shelters are available at Brewster High School and Tonasket High School. Several churches, including Cornerstone Christian Fellowship in Omak, have opened their doors to evacuees.
Home Depot and 12 Tribes Casino, both in Omak, have opened their parking lots to people with campers or RVs.
People also can camp for free in Omak East Side Park and along the side of Memorial Park in Pateros. Several vacant lots also are available in Pateros.
Those wanting full hook-ups in Omak's Carl Precht Memorial RV Park, within East Side Park, will be charged $25 per night.
The Omak Stampede grounds and Okanogan County Fairgrounds are open for people to take evacuated animals. The sites are not staffed.
Goodall said people should not send donated items, food or water.
The American Red Cross is accepting monetary donations, marked for the Okanogan Complex, as is the Community Foundation of North-Central Washington in Wenatchee.
He said he is not aware of anyone accepting donations of clothing, food or other goods.
Air quality is at "hazardous" status in the county, the Okanogan County Health District said. The office advises people to stay indoors, do only light activities and keep windows closed.
It suggests wearing an N-95 respirator mask for outdoor activity.
Goodall said people need to be aware of their surroundings and evacuate sooner than later.
He worked into the wee hours Thursday morning as fire swept across the flats north of Omak. When he finally went home around 1 p.m. – to those same flats – he found two neighbors' homes on fire. He said he slept on his haystack so he could be ready in case fire struck his place.
Crews from the Okanogan County Public Utility District also are putting in long hours, spokesman Dan Boettger said.
Until Wednesday night, crews were keeping up with outages, downed lines and burnt poles. The fires' rapid advance put crews behind.
The Loup Loup transmission line, which runs from Okanogan to Twisp and serves the Methow Valley from Carlton to Mazama, is still electrified, although utility officials were extremely worried about it Wednesday night when the Beaver Fire – burning north of state Highway 20 near the Loup – appeared to be making a run south.
The fire took a turn and the line remained on.
Utility General Manager John Grubich said the utility will keep the line electrified until either fire officials want it turned off for firefighter safety or it trips off because of fire.
If the Loup line were to go down, Malott, Pleasant Valley, the Chiliwist and the area from Malott almost to Ophir Grade also would be without electricity, Boettger said.
While retardant bombers and water-dipping helicopters assaulted the fire on Tuesday, the fixed-wing craft were grounded Wednesday and remain so today because of thick smoke. It is unsafe to operate them with such limited visibility, Goldmark said.
"It's so easy to misjudge the location of a fire (because of) smoke or fire," he said.
Goodall said county commissioners Ray Campbell, Sheilah Kennedy and Jim DeTro all have been on the fire lines reporting back fire advances and helping with evacuations and cattle movement.
The new Type 1 team is in Okanogan and will take over fire management in a couple days, Rabe said.
An additional strike force, engines and other resources have been ordered from Western Washington, said Tony Gilmer, who does planning and operations for the Type 2.
Three firefighters died Wednesday afternoon in the Twisp River Fire. Four others were injured. (See separate stories.)
Gilmer said there's been an assortment of other injuries, including burns and scrapes.