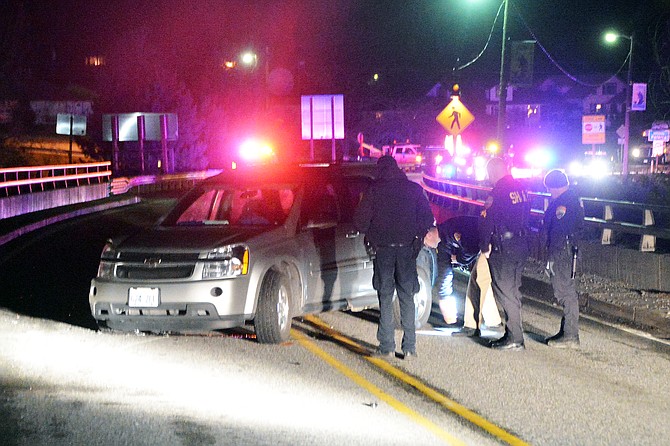 Photo by Al Camp
Okanogan County Sheriff's Office deputies mark the location of an SUV involved in a crash late Wednesday night in Pateros. The driver was injured after her vehicle was hit by a car being pursued by law enforcement.
PATEROS — A suspect who was being chased by law enforcement and crashed his car into an oncoming SUV remains at large Thursday morning.
The crash injured the suspect, Miguel A. Solorio, 24, of Fresno, Calif., and the other motorist, Liliana Jimenez Ramirez, 26, of Chelan, the Washington State Patrol said.
Some details remain sketchy. Okanogan County Sheriff Frank Rogers said Solorio apparently bailed out of his car after the crash. He was tracked down by a Chelan County K-9 unit and taken to Three Rivers Hospital in Brewster, but later allegedly escaped.
The chase apparently started in East Wenatchee, with the Douglas County Sheriff's Office pursuing the vehicle north on U.S. Highway 97 through Chelan County and then into Okanogan County. Undersheriff Kevin Morris said the Douglas County deputy tried to stop the vehicle for expired tabs and a brake light violation.
Chelan County units joined the pursuit and attempted to deploy spike strips, but the vehicle kept going.
The Brewster Police Department deployed a spike strip south of Pateros. As of Thursday morning, it was unclear whether the spikes damaged the vehicle's tires.
A Washington State Patrol report said the vehicle lost control just after 11 p.m. and crossed to the southbound side of the highway, where it struck a support on the bridge over the Methow River. It then struck Jimenez Ramirez' southbound vehicle, with both coming to rest blocking the highway.
The highway was closed for more than two hours while law enforcement investigated the crash and the wreckage was cleared.
Jimenez Ramirez was airlifted by MedStar to Confluence Health in Wenatchee, the patrol said.
Both vehicles were destroyed.
No drugs or alcohol were involved. Jimenez Ramirez was wearing a seatbelt; it's unknown whether Solorio was wearing a seatbelt.
See the Sunday issue of The Chronicle for additional information.