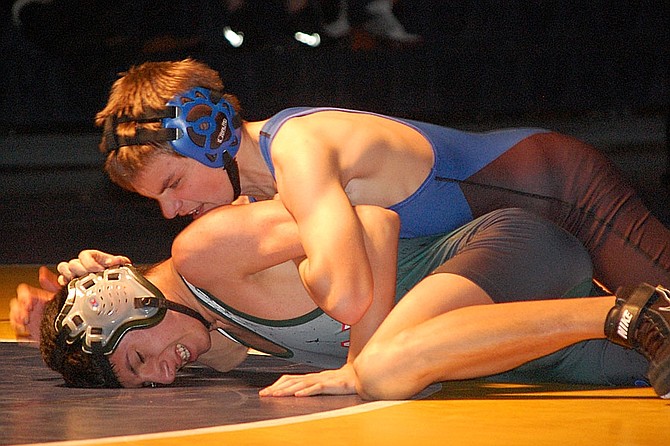 Photo by Brock Hires
Tim Freese of Tonasket claims victory over Ben Banuelos of Chelan in a 120-pound match at a home match Jan. 7. Tonasket hosts its Apple Pie Jamboree on Saturday starting at 10 a.m. The finals will be around 4 p.m.
OROVILLE — Oroville's Zane Scott at 195 pounds picked up two pins during a wrestling mixer Thursday night.
Others pins were by Drake Fox (120), Jordan Smith (126), Leo Curiel (138) and Brandon Baugher (152) in the "much-needed home event," Oroville coach Chuck Ricevuto said.
"Perhaps the best bout of the night pitted freshman Jeff Rounds (113) against xx Stauffer of Davenport," Ricevuto said. " Stauffer is a talented junior that dominated Jeff earlier in the season. Not this time!"
Rounds stayed with Stauffer, who led 6-5 into the third and final period.
"A mistake allowed his opponent to pick up 6 unanswered points," Ricevuto said of Rounds. "Jeff is a real scrapper who continues to improve."
Also wrestling for the Hornets was Luis Vazquez, who lost a very close 7-6 decision, and Kacey DeWitte, Scotty Hartvig, and Charles Arrigoni.
"It was a good night of wrestling with Oroville and Davenport," Omak assistant coach Dean Agee said. "Alex Aguilar, Rowdy Kruse, Gerald Sam, Michael Quezada, Dallas Joe, Oliver Williams, Danny Gomez, James Monaghan and Jaden Peterson all picked up wins."
Tonasket and Liberty Bell are at Omak for a tri-meet at 7 p.m. tonight.
Wednesday double duals include Omak, Cashmere and Cascade are at Chelan and Lake Roosevelt and Okanogan at Liberty Bell. Matches are slated to start at 6 p.m.
Liberty Bell, Brewster, Oroville, Chelan, Cascade, Cashmere, Okanogan, Chewelah and Warden will be at the Tonasket Apple Pie Invite at 10 a.m. Saturday.
Also Saturday are Omak at the MP Premier Tournament at Marysville-Pilchuck (9:30 a.m.) and Lake Roosevelt and Pateros at the Rainier Sgt. Norton Memorial (10 a.m.)