OLYMPIA — A new movement is brewing in the Legislature that could change how federal forests are managed in Washington state.
Last week, three bills — two in the House and a companion in the Senate — were filed calling for the study and possible transfer of publicly owned lands managed by the federal government. In short, a handful of senators and a number of Republicans and Democrats in the House want the state to manage the more than 12.17 million acres of land currently under the control of federal bureaucrats.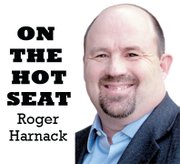 According to a 2012 report from the federal General Services Administration, the federal government controlled 28.5 percent of all the land in the state five years ago. And with that control comes control of the timber, gold, coal and other natural resources on the land.
House Bill 1192 calls for a study of federal land ownership and would create the Joint Select Committee on the Transfer of Public Lands. It has already been referred to the Capital Budget Committee for review and a possible hearing.
Bipartisan House Bill 1262 — and its companion Senate Bill 5405 — would establish a task force charged with evaluating and pursuing transfer of land from federal to state ownership.
Reps. Joel Kretz, R-Wauconda, and Shelly Short, R-Addy, have signed onto both House bills. And Sen. Brian Dansel, R-Republic, is a proponent of the companion bill.
Kretz sees the bills as the first step for Washington in a political battle that's shaping up across the West.
Kretz said the U.S. Forest Service has proven itself "incapable" of managing forests. Ironically, should the transfer come to pass, much of the land would fall under the auspices of the state Department of Natural Resources, an agency locals blame as a major part of the problem in last summer's Carlton Complex wildfire.
Kretz says the more local the control of public lands, the better. I couldn't agree more. Simply put, an absent landlord is an ineffective landlord.
Now you may argue that Okanogan-Wenatchee and Colville national forests are not absentee landlords. After all, they have employees, administrators, rangers and offices here.
Let's call that a matter of semantics — the worker bees are directed by federal bureaucrats who may never have visited any of our forests. The reality is that U.S. Forest Service officials in other parts of the nation are making the call on how we recreate, harvest timber and manage resources here.
Take for example so-called travel management plans being pushed by the agency. While Okanogan County is taking every opportunity to open our communities, roads and countryside to off-road vehicles, ATVs and other machines sporting safety features, the U.S. Forest Service is taking steps to restrict their use on publicly owned lands it manages. It's not just ATVs, traditional roads are being bermed and gates installed to prevent car and truck access. And next on the agency's political agenda is preventing snowmobile use.
Getting back to the bills, the transfer to state management makes sense. And the representatives and senators behind the effort should be commended.
While more Republicans have pledged their support, so far, this is not a conservative-liberal issue. This is a matter of our state's right to manage the land within our border.
Our statehood compact, signed Feb. 22, 1889, only allowed the federal government to manage the land until it could be sold into private ownership or until the state could effectively manage it and its resources.
As a state, our agencies — such as the Department of Natural Resources — have been far more effective managing land, about 140 percent more efficient, according to Kretz.
In transferring the land back to the state, "maybe we can put $5 billion" into our own state's budget coffers instead of the money pit that is Washington, D.C., Kretz says. If his estimates only slightly come true, both Okanogan and Ferry counties would stand to benefit dramatically from the transfer.
In Okanogan County alone, the federal government holds title to at least 1.57 million acres of land, roughly 46 percent. In Ferry County, the federal government has 487,065 acres, roughly 34 percent. If those lands were under state Natural Resources management, for example, more timber revenue would be realized for our schools. More people would have living-wage jobs. And decisions affecting our rural lifestyles would be made closer to home.
That's a winning combination for area residents, the state and the West as a whole.
Roger Harnack is the editor and publisher of The Chronicle. He can be reached at 509-826-1110 or via email at rharnack@omakchronicle.com.