It's almost July 4.
You're excited about having burgers with friends and family. You've busted out the red, white and blue. And you're excited about shooting off fireworks.
But it's also summer in Eastern Washington.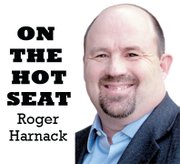 This year, the holiday weekend fire danger is higher than in recent years. And the danger just isn't in the form of warnings – this week prior to our press deadline, there were already fires burning near Monitor, Mansfield, Leahy Junction, Orondo and Osoyoos, B.C. Homes and businesses were leveled in Wenatchee.
What are you going to do? Are you still going to buy fireworks? Are you going to curtail that part of the holiday weekend? Or are you going to a commercial fireworks program in Grand Coulee, Brewster, Twisp or some other location?
It's your right as an American to buy and shoot off fireworks. Besides, many local fireworks stands are fundraisers for civic groups, community festivals and youth activities.
What about the fireworks big enough to light up the sky available on the Colville reservation? Are you going to shoot those off this year? The tribe and city of Omak have cooperated during the last several years to dedicate a safe area to launch them.
There's also that fire danger. Do you have a safe place to light off fireworks – big or small? Do you have a way to put out a fire if a spark or two ignites dry grass? And what will you do if your fireworks ignite another large fire that could easily rip across our rural area this year.
There's nothing new about the dilemma you're facing. I trust each of you that you make a common sense decision on whether to buy fireworks or not.
On Monday night, I sat through a meeting where personal fireworks were a topic of a short discussion, with memories of the Carlton Complex wildfire still vividly blazing in their minds. What began as a somewhat lively, emotional discussion ebbed back to common sense.
No matter where you live in America, people are going to buy and shoot off fireworks on the Fourth of July. Most are going to be responsible; some are not.
Yes, it's your "American right" to buy and shoot off fireworks. With that, fireworks freedom also comes responsibility.
Unincorporated Douglas and Okanogan counties have restrictions on fireworks, as do all the cities here in North-Central Washington. There is a different set of rules on the Colville Indian Reservation.
Know the rules in your area before you shoot off fireworks. Check with your local fire department for some common sense precautions before lighting your personal fireworks.
As for the fundraising aspect of fireworks stands … if you're uncomfortable with using personal fireworks this year, why not just make a donation to the civic group or youth club that needs your support? I'm sure they'd be just as happy.
If you choose not to celebrate Independence Day with personal fireworks this year, there are several community options with commercial displays for you to choose. But if you're going to shoot off personal fireworks, given the tinderbox we live in this year, please do so responsibly.
And have a great Independence Day.
Roger Harnack is the editor and publisher of The Chronicle. He can be reached at 509-826-1110 or via email at rharnack@omakchronicle.com.