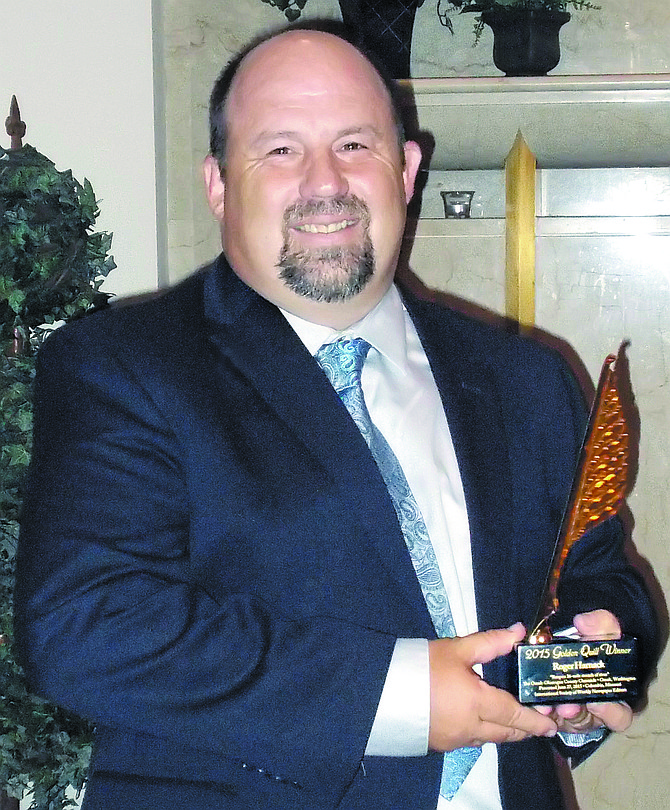 COLUMBIA, Mo. — The publisher of The Omak-Okanogan County Chronicle received the top international award for weekly newspaper editorial/column writing during a gala celebration Saturday night at the Missouri School of Journalism.
Roger Harnack, 47, was presented the Golden Quill by Chad Stebbins and Gary Sosniecki on behalf of the International Society of Weekly Newspaper Editors during the organization's annual conference.
Top weekly newspaper editorial writers and columnists from across the U.S., Canada and Australia attended the event, which also included the Golden Dozen and Eugene Cervi awards.
"It's quite an honor to have received this award among such prestigious colleagues," Harnack said.
Harnack's award stems from his editorial drive to keep access open to public lands, forests and waters during 2014. Specifically, he was credited for his efforts to re-open a 36-mile stretch of the Columbia River for fishing, boating and other recreation last year.
The Grant County Public Utility District declared an emergency last February after an employee found a crack in the Wanapum Dam spillway. The emergency declaration halted all access to that stretch of the nation's third largest river.
Utility officials claimed a license to operate the dam gave them the authority to shut down all activity on the water and adjacent public lands.
But Harnack took the agency and the Federal Energy Regulatory Commission to task for violating federal navigable waters laws requiring the river and adjacent public lands be open. He noted that a license to operate a dam is not a license to violate federal law nor is it a license to limit the public's right to access, recreate and conduct business on the land and water it owns.
Within weeks of his column noting an emergency did not exist more than 10 months after the declaration, the public waterway and adjacent lands were reopened. Not too long thereafter, all of the boat launches had also reopened.
"Roger Harnack did what I like best in an editorial. He took something as down-home as a fishing pole and used it to give obstinate bureaucrats a civics lesson," the critiquing judge said. "… I know that Westerners are bred to believe rivers are far more than flowing water. They are public heritage and a vital part of 'this land' that is 'your land.'"
The international judge credited Harnack with "keeping local government within the bounds of sanity."
While Harnack previously received a Golden Dozen award in 2013, this is his first Golden Quill.
It is only the third Golden Quill to be presented to a journalist in Washington state. The other two went to Henry G. Gay in 1986 and Charles Gay in 2004. Both were writing for The Shelton-Mason County Journal in Shelton.
This year's Golden Dozen winners were Steve Bagwell, managing editor of the News-Register in McMinnville, Ore.; Joan Livingston, editor of the Taos News in Taos, N.M.; Elliott Freireich, publisher of the West Valley View in Avondale, Ariz.; Mike Dart, editor of Four Oaks-Benson News in Review in Benson, N.C.; Steve Ranson, editor of Lahontan Valley News in Fallon, Nev.; William F. Schanen III, publisher of the Ozaukee Press in Port Washington, Wisc.; Brian J. Hunhoff, an editorial staff member of the Yankton County Observer in Yankton, S.D.; Mike Buffington, co-publisher of The Jackson Herald in Jefferson, Ga.; Declan Varley, editor of the Galway Advertiser in Galway, Ireland; Cary Hines, managing editor of the West Valley View in Avondale, Ariz.; and Brian Wilson, news editor of The Star News in Medford, Wisc.
Bagwell was the runner-up for the award. He and Harnack also finished second and first, respectively, for editorial and commentary writing from the Society of Professional Journalists in its five-state 2014 Excellence in Journalism contest.
Buffington received the Eugene Cervi Award for a "career of outstanding public service through community journalism."
Washington state journalists who have received the international Eugene Cervi Award are Frank Garred, formerly of the Port Townsend Leader, in 2004; and Henry Gay in 1991.