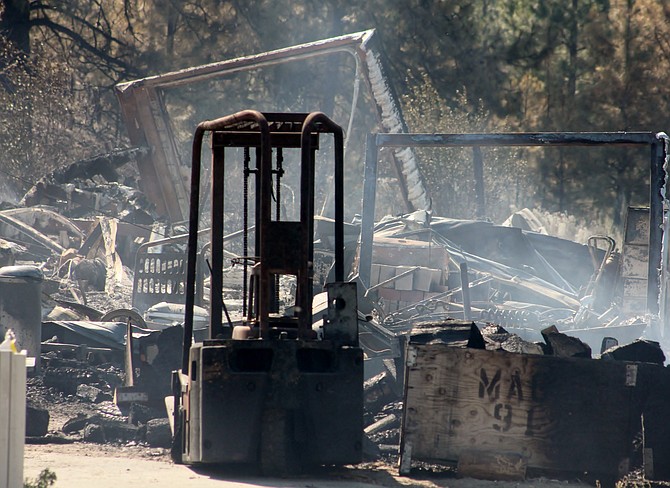 Photo by Roger Harnack
Flames destroyed a home on Rondeau Road late Friday night before fire crews could contain the blaze.
OMAK — A fire that began along Rondeau Road destroyed a house and jumped state Highway 155 before firefighters could surround and suppress it.
Incident Commander Dusty Ensminger said today that firefighters contained the blaze to just over 300 acres.
The cause of the blaze is under investigation, he said.
Firefighters at the scene said there were several explosions heard as the house burned. One said he thought it was ammunition.
Ensminger credited the Omak and Okanogan fire departments for their initial response Friday night after the fire was reported about 7 p.m. Mount Tolman Fire Center and a few contract crews joined the fire fight shortly thereafter.
Unofficial reports suggest the fire started at a house or adjacent outbuildings on Rondeau Road and quickly spread to the dry grass and sage surrounding the home. The flames raced up hill and jumped the highway before being stopped near Omak Creek.
The highway was closed temporarily last night as flames licked at the roadway and smoke limited visibility.
"It's completely lined now," Ensminger said about 4 p.m. today. "We're in mop up."
Fire crews continued to widen fire lines and law enforcement stood by in case the fire flared back up, fanned by gusty dry winds.
Information on the owner of the home was not immediately available.
But at the home, several vehicles could be seen smoldering in the ashes. A U.S. flag, however, stood in full color flying over the burn area without damage.
Meanwhile, a small grass fire was reported in Grand Coulee about federal Bureau of Reclamation offices.
That fire was quickly put out before it could affect the Festival of America celebration taking place nearby at Grand Coulee Dam.