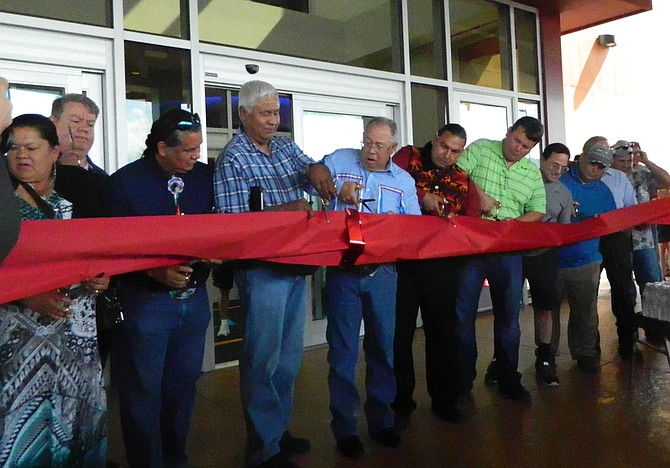 Photo by Dee Camp
Colville Business Council members cut the ribbon to open the new 12 Tribes Resort Casino south of Omak off U.S. Highway 97.
OMAK — Several hundred people crowded into the new 12 Tribes Resort Casino on Tuesday afternoon as the Colville Confederated Tribes opened its flagship casino.
Several Colville Business Council members, armed with gold-plated scissors, cut a huge, red ribbon to mark the $43 million facility's opening.
"It makes my heart happy to see where the Colville tribe has come in just a few years," Colville Business Council Vice Chairman Mel Tonasket said.
Just a few decades ago, when he first was elected to the council in 1970, the tribe had 87 percent unemployment and very few members had jobs outside of mill work or for the tribe or U.S. Bureau of Indian Affairs.
"Now, we are one of the largest employers in Okanogan County," he said, adding it too a lot of work by the council, its enterprises and its people to turn things around.
Omak Mayor Cindy Gagne offered congratulations "and our best to you in business."
After the ribbon cutting, people swarmed into the casino to play games and sample a variety of foods and drinks. Tours of the hotel were available, although it will not open for another week.
The casino officially opens at 8 a.m. tomorrow, June 17.