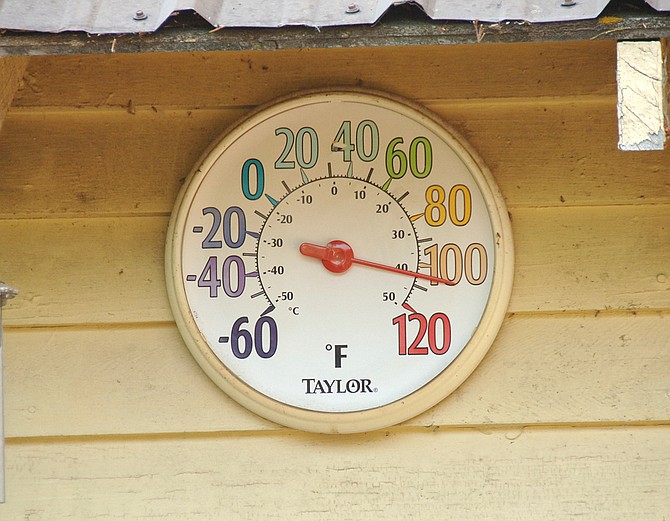 Photo by Dee Camp
A thermometer shows the Sunday temperature higher than 100 degrees in Okanogan.
OMAK — Thermometers in Okanogan and Ferry counties topped off the weekend with record-setting temperatures soaring well above 100 degrees.
Omak was the hot spot, where the temperature hit 110 degrees Sunday – 13 degrees hotter than the previous record for the same day, set in 1992 at 97 degrees, the National Weather Service's Spokane regional office said.
And the weather wasn't much cooler Saturday, either.
The service reported the 2006 record for June 27 of 100 degrees was shattered as thermometers in Omak climbed to 107 degrees.
Other areas were had record heat Sunday, too.
Winthrop reached 103 degrees, up 7 degrees from its previous 1906 record for June 28.
Other record highs on June 28, included:
Mazama at 102, up from 96 in 1987
Republic at 104, up from 98 in 1929
Other June 27 records included:
Grand Coulee Dam, 103, up from 98 in 2006
Winthrop, 100, up from 99 in 1925
Republic, 101, up from 97 in 1925
With the increasingly warm weather, there is continued concern for wildfire possibilities.
Over the weekend, the National Weather Service issued a heat advisory. It was later upgraded to a red flag warning, prompting the Okanogan County Emergency Management to issue a statement warning local residents.