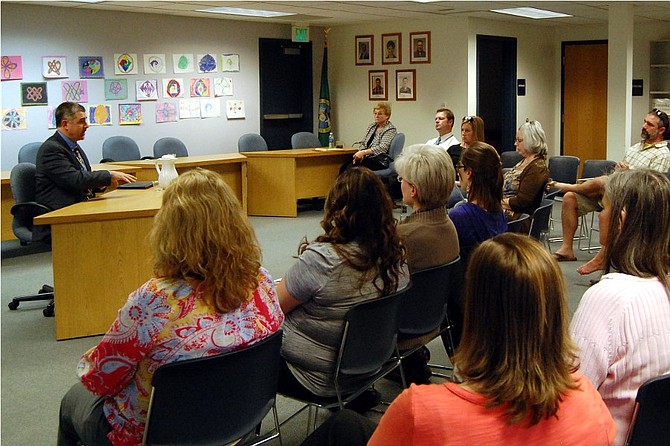 Photo by Brock Hires
Nearly 30 community residents crowded the Tonasket School District office on Monday to ask questions and meet superintendent candidate Steve McCullough of Curlew.
TONASKET — The Tonasket School board has offered the superintendent position to Steve McCullough of Curlew.
The board made the decision Wednesday evening following a closed door executive session, where board members reviewed and considered either McCullough or Desiree Gould of Pullman.
McCullough is the current Curlew school superintendent and could not be reached for comment.
"To me, he kind of rose to the top," board member Lloyd Caton Jr. said. Steve "seems to have a heart for kids."
Doug Asbjornsen, who lead the search on behalf of the headhunting firm McPherson and Jacobson, said both candidates were highly qualified for the position and he was surprised by the large community interest.
"I was pleased to see the various folks," at the community meetings he said. They "really care."
Thirteen candidates applied for the position, but one dropped out because of another job opening in Western Washington, Asbjornsen previously said.
The decision to hire a new superintendent came after a Nov. 24 board meeting where the board discussed current Superintendent Paul Turner's contract in executive session, then reconvened in public where members voted, 3-2, not to renew his rolling contract.