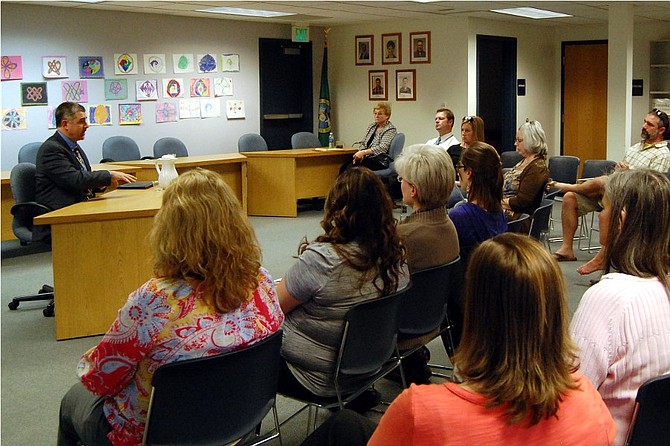 Photo by Brock Hires
Nearly 30 community residents crowded the Tonasket School District office on Monday to ask questions and meet superintendent candidate Steve McCullough of Curlew.
TONASKET — The Tonasket School board will meet at 7 p.m. tonight to name either Steve McCullough or Desiree Gould as the district's new superintendent.
The meeting will take place in the district office at 35 E. state Highway 20.
The decision to continue the discussion came after a nearly three-hour closed door executive meeting last night, that adjourned at about 1 a.m. this morning.
The board announced last Friday the possibility of a special meeting tonight in the event they needed more time to review the candidates.
Doug Asbjornsen, who is leading the search on behalf of the headhunting firm McPherson and Jacobson said both candidates are highly qualified for the position and said the board is thoroughly reviewing each candidate.
"They're taking this very seriously," he said.
The decision to hire a new superintendent came after a Nov. 24 board meeting where the board discussed current Superintendent Paul Turner's contract in executive session, then reconvened in public where members voted, 3-2, not to renew his rolling contract.
More like this story