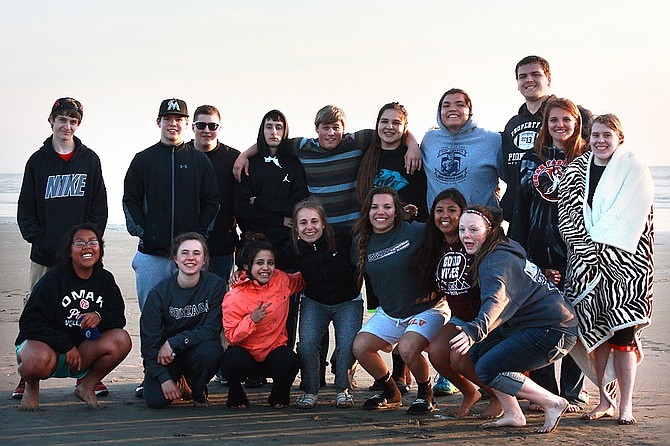 Jordan Lesamiz
The Omak Powerlifting Team returned from state with second-place finishes for boys and girls teams.
OCEAN SHORES – Omak teams picked up second place finishes at the Washington Powerlifting State competition May 9.
"(These were) the highest placings by Omak during the five years the team has been competing," coach Jordan Lesamiz said. "It was the largest meet in state history with over 150 athletes posting qualifying totals. "
Omak returned with one boys champion (Dallas Joe at 123 pounds and Dustin Thorp, who tied at 198 pounds) from a 8-member team and 2 girls champions (Diane Hilderbrand at 148 pounds and Lexi Dawson at 123 pounds) from a 10-member team.
Joe, a sophomore, dominated at 123 pounds with a 950 pound total, 85 pounds over second place.
Thorp won at 198 pounds, tying the state bench record with a lift of 410 pounds.
Hilderbrand, a senior, won her second straight championship with a 765 pound total, winning by 65 pounds.
Dawson, in her first year of lifting, had a 620-pound total.
"This year's success was exciting for the team considering the team's youth and inexperience," Lesamiz said. "With only two seniors, Omak will be returning with nearly their entire team, making a state championship next year for the boys and girls a realistic goal."
"Our two seniors Diane Hilderbrand and Russell Daffern (second at 181 pounds), will be missed because of their outstanding leadership. Both athletes have placed high at every meet they attended and their daily leadership in the weight room was integral to the team's success."
Results (name, weight, squat, bench, deadlift, total, placing)
Boys
Dallas Joe, 123, 360, 195, 350, 905, first
Trevor Sparks, 123, 215, 115, 255, 585, sixth
Russell Daffern, 181, 460, 305, 460, 1,225, second
Lary Allen, 181, 360, 200, 400, 960, eighth
Dustin Thorp, 198, 435, 410, 540, 1,385, tied for first
Dangelo Chapa, 220, 445, 280, 440, 1,165, third
Ryan Nilles, unlimited, 530, 365, 520, 1,415, third
Keith Matt, unlimited, 520, 330, 450, 1,300, fourth
Girls
Alicia Cervantes, 114, 240, 105, 225, 570, second
Lexi Dawson, 123, 240, 125, 255, 620, first
Diane Hilderbrand, 148, 300, 165, 300, 765, first
Skylar Stalder, 148, 195, 120, 210, 525, fifth
McKendra Rose, 165, 245, 115, 205, 565, fifth
Amanda Knowles, 165, 185, 100, 225, 510, seventh
Livia Hays, 181, 250, 165, 185, 600, fourth
Olivia Knowles, 181, 205, 105, 265, 575, fifth
Alexi Mendoza, unlimited, 350, 185, 380, 915, third
Cassidy Farmer, unlimited, 125, 120, 260, 505, seventh