The state Department of Fish and Wildlife's Wolf Advisory Group doesn't quite fit the definition of an agency required to comply with the state Open Public Meetings Act. Even so, the agency was developed to help the public and agency deal constructively with wolf-livestock conflicts and other related issues.
So when Okanogan County staff called me Monday to ask why the Wolf Advisory Group is planning a secret meeting for later this week, my interest was piqued.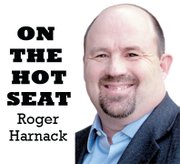 At issue is whether the group's 18 members should meet privately Thursday morning to organize. Why would a group need to meet behind closed doors to elect officers and set up subcommittees, you ask? I didn't know, so I asked.
My first calls were to a couple administrators at the state Department of Fish and Wildlife. My next calls were to the offices of Reps. Joel Kretz, R-Wauconda, and Shelly Short, R-Addy. In Kretz's office, legislative aide Sarah Stewart jumped on the issue. Within minutes, I had in my hands Wolf Advisory Group guidelines that specifically said, "Meetings will be open to the general public. Time will be allocated at the end of meetings for the public ..."
After a while, Fish and Wildlife's Dave Ware called me back. Briefly, we talked about the reasons for closing the organizational part of the meeting to the public. (Ware is the agency's wolf policy lead.) The context of the discussion boiled down to this — the agency's new Human-Wildlife Conflict Collaboration Executive Director Francine Madden wanted a private session.
If you don't know Madden, she's written the "People and Wolves in Washington" report detailing her recommendations for overcoming conflicts between the agency and rural residents.
Ware said Madden believes Wolf Advisory Group members — recently expanded from nine to 18 members — need to get acquainted with her and each other before they are subjected to public scrutiny.
Madden will be facilitating Thursday morning's session. She doesn't want the public to see or be involved in what's happening. And she has personally written the report on how the state should respond to wolf issues.
Ware called it teambuilding.  Really? It sounds more like attempted brainwashing.
I find it interesting that a group designed specifically to work openly with the public is so easily locked away in a secret session by a new state employee.
Ware said Madden believes having a closed door session on Wolf Advisory Group reorganization is the first step toward creating confidence in the wolf-conflict management process. Is it just me, or does that seem to be just a little contradictory? When I asked Ware that rhetorical question, he acknowledged the paradox, but then reiterated the Wolf Advisory Group isn't governed by open meetings laws, even if the board's guidelines promise to meet in public.
I don't know about you, but sequestering a group designed to be open and available to the public isn't the way to build confidence. Given what I heard during my conversation with Ware, my confidence would be bolstered if the agency gave Madden her walking papers. After that, send a new press release opening Thursday's meeting to the public.
Roger Harnack is the editor and publisher of The Chronicle. Email him at rharnack@omakchronicle.com.