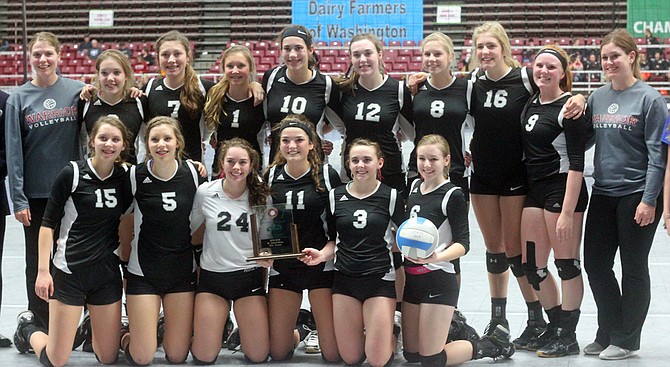 YAKIMA — The Almira/Coulee-Hartline volleyball finished fifth at the state 1B tournament Friday and Saturday.
To reach the trophy match for fifth- and sixth-place, the Warriors eliminated Pateros.
"The Warriors ended their season with an impressive 22-1 record (counting the Davenport tournament 4 games as one win)," ACH coach Katie Walsh said. "They represented their school and community with class throughout their season.
"They are definitely one of the most cohesive groups I have ever coached. They worked hard to prepare for opponents, understood the value of 'team before me', and played with heart. I couldn't really ask for more out of group of players."
ACH opened state with a 25-18, 25-11 and 25-8 win over Three Rivers Christian on Friday morning.
ACH stats: Brenna Oliver 6 aces, 14 assists; Emma Dingman 7 kills, 3 blocks; Berlyn Hunt 6 kills, 3 digs; Kenadee Loomis 3 digs.
The Warriors fell later Friday to defending state champion Pomeroy, which won 25-12, 25-18 and 26-24.
"The Warriors played the Pirates last year in the championship and were looking forward to this year's matchup," Walsh said. "The Pirates started out strong and although the Warriors fought hard they overtook ACH in three sets."
This was the first and only loss by the Warriors this season.
"It was hard to take when they had set their sights on the championship," Walsh said. "However, they knew that tomorrow was a new day and they could lay down or earn the highest trophy available which was now fifth place."
ACH stats: Berlyn Hunt 2 aces; Gabi Isaak 2 aces, 2 blocks; Brenna Oliver 12 assists, 6 kills, 2 blocks; Mikayla Ruston 7 kills; Emma Dingman 2 blocks; Kenadee Loomis 18 digs.
Saturday morning ACH beat Pateros 25-18, 25-9, 24-26 and 25-16 where the winner played for a trophy and the loser went home.
"They played together and were able to beat the Nanny-goats," Walsh said.
ACH stats: Gabi Isaak 4 aces, 9 kills; Brenna Oliver 27 assists; Emma Dingman 9 kills; Kenadee Loomis 19 digs; Berlyn Hunt 3 blocks.
The final test for the Warriors was Sunnyside Christian, where ACH prevailed 25-22, 23-25, 25-19 and 25-13.
"Sunnyside has been a common opponent for ACH throughout their years at the state tournament," Walsh said. "The Warriors proved their heart was still in the game and while Sunnyside took one set from them, they came out on top to win the fifth-place trophy.
ACH stats: Brenna Oliver 4 aces, 23 assists; Berlyn Hunt 17 kills; Emma Dingman 14 kills, 7 blocks; Kenadee Loomis 12 digs.
"The Warriors would like to thank their parents and community members for making them feel so special during the season and during their post-season experience," Walsh said. "From great team-dinners throughout the season to the amazing sendoff through town and all the special things in between.
"The Warriors are truly blessed to be part of such an amazing support system. WE ARE SO PROUD TO BE WARRIORS!"