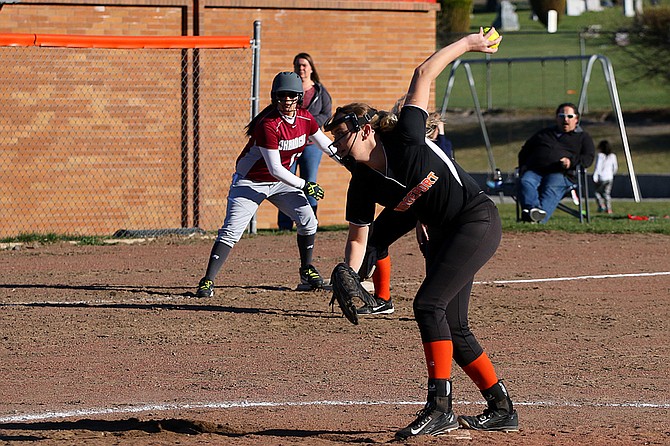 Brad Skiff
Roxanne Belgarde of Okanogan watches from third as ShayLee Polvos of Bridgeport pitches during game March 29 in Bridgeport.
COLVILLE — Colville topped Omak by identical 9-4 scores in a non-league softball doubleheader at Colville on Saturday.
"Overall, we are still happy with where we are at," said Omak coach Rick Duck. "We played five games against three good teams this last week and competed well in all 5. Once we get the little things right we will see some W's in these games."
After two scoreless innings of the opener, each team scored three times in the third inning.
Colville broke open the game with five runs in the fourth.
"We got a few hits against a good Colville pitcher (Gracie Schaulf, 11Ks) in this one," coach Duck said. "Just couldn't string enough hits together. We left 10 runners on base."
Jamie Utt drove in all four of Omak's runs, including a 3-run homer in the third.
"Our defense (6 errors) was sloppy in this one," coach Duck said. "Rhaney Harris pitched well enough to win, but we didn't have the run support."
Harris struck out 3, walked one and gave up 6 earned runs on 8 hits.
Colville committed one error.
Omak (4) – Priest 1-4, K. Duck 1-4, 3B; Boyd 1-4, 2B; Harris 1-2, 2BB; Utt 3-4, 4RBI, 3R, HR.
In the second game, Omak committed 5 errors while outhitting Colville 9-7.
"Again in this one, our defense had some soft spots," coach Duck said. "I was happy with the top of our order, (which) is starting to hit. Priest, Duck and Boyd hit the ball well. Boyd had a hard hit line drive in the sixth with the bases loaded that was caught for out 3. Colville had a 5-run third, which made the difference."
Omak (4) – Priest 2-2, 2R, 2BB; Duck 1-4; Boyd 2-4, RBI, 2B; Keaton 1-3; Utt 2-4, 2B; Ables 2-3.
Kara Keaton pitched four innings, giving up 6 earned runs on 7 hits.
Utt closed, giving up one hit and one earned run in two innings.
L.R. at Brewster
Brewster swept visiting Lake Roosevelt, 15-0 and 18-2, in a league doubleheader on a sunny Saturday.
The opener was close with Brewster pushing across four in the first and none in the next two innings against The Raiders' Tristen Adolph (5Ks, 4BB).
Markie Miller of Brewster kept the game under control with 7 strikeouts, 4 walks and 0 hits.
That gave time for the Bears, who struck for 11 runs in the bottom of the fourth to end the game early.
Lake Roosevelt committed one error and the Bears none.
Lake Roosevelt (0) – Reyes 2BB, SB, Garvin BB, Ludwig BB.
Brewster (15) – C. Sanchez 2-3, 3R, RBI, BB, 3SB; Urias 2-4, R, 3RBI, 2B, SB; Markie Miller 2-4, 2R, 2RBI, 2SB; Y. Sanchez 3-3, 2R, 2RBI, 3B; Garcia 1-2, R, 2SB, BB; Terrones 2-3, R, SB; Maret Miller 1-3, R, RBI; Emigh 1-1, 2R, RBI, 2SB, BB; Kelpman 1-2, 2R, 2RBI, SB, BB.
The Raiders committed 5 errors to none for the Bears, who ended the game in three innings.
Lake Roosevelt (2) – Garvin 1-2, 2RBI; Ludwig 1-1, BB; Harrington R, BB; Moore R, BB, Reyes 2BB, Priest 2BB.
Brewster (18) – C. Sanchez 1-3, R, BB; Urias 3-3, 3R, 3RBI, 2 2B, BB; Markie Miller 1-2, 2R, 2RBI, HR, BB; Y. Sanchez 1-2, 3R, RBI, 3SB; Garcia 2-3, 2R, 2RBI, 2SB, BB; Terrones 1-3, 2R, 2RB, 2SBI; Maret Miller 3R, 2SB, 2BB; Martinez 2-3, R, 4RBI; M. Kelpman 1-3, R, SB.
Markie pitched, innings, gave up 3 earned runs, walked 7, 8, 2 hits.
Pateros at Manson
Pateros schooled Manson, 23-8 and 21-1, on Saturday at Manson.
"Although the score doesn't show it, we played two really good games," Manson coach Janice Stewart said. "Good things happened."
Oroville at L.B.
Oroville won the opener, 14-6, before Liberty Bell came back for a 15-0 shutout in the second game of league fastpitch Friday at Winthrop.
Courtnee Kallstrom knocked out a pair of singles, Yaneli Avalos-Cazares had a single and double, Madison Whitaker tripled and Pie Todd homered for Oroville.
"Once again great running game by the Lady Hornets and good defensive play," Oroville coach Dane Forrester said.
Game 1: Liberty Bell (6) – Surface 2-4, 3B; Ochoa 3-4; McMillan 2-4, double.
Oroville lost catcher Faith Martin due to an injury in the second game.
"… the team failed to recover," Forrester said. "The Ladies struggled and Liberty Bell capitalized on the loss of our catcher."
Game 2: Liberty Bell (15) – Ochoa 2-3, 2B; Surface 1-4; C. Treise 1-3.
Okanogan at Tonasket
Okanogan pulled out two, hard-fought games, 6-5 and 14-4, at Tonasket on Thursday.
"Both games were exceptional," Tonasket coach Johnna Sutton said. "Every time the girls compete I see growth. It's amazing to watch. We had a tough fifth inning in the second game that mentally we couldn't come back from."
Okanogan hitting was not received.
Vanessa Pershing for Tonasket pitched a complete first game, striking out 8.
Game 1: Tonasket (5) – DeJong BB, R; A. Willis 3BB, R; A. Sutton R; Keller 2B, 2R; K. Willis 2B, BB; Lewis BB; Pershing BB, R; O. Sutton 2BB.
Game 2: Tonasket (4) – DeJong BB, R; A. Willis BB, R; Keller 2B; Lewis BB; Wahl R; Pershing 2B, R.
Bridgeport at Waterville
Bridgeport took two games from Waterville, 12-1 and 26-5, in league fastpitch Thursday at Waterville.
"We hit the ball really well and were smart on the bases," Bridgeport coach Allyson Johnson said. "Really proud of ShayLee (Polvos) for throwing two, great games and Samantha (Martinez) for relieving her in the seventh. Great team win."
Game 1: Bridgeport (12) – Hernandez 2-4, Campos 1-3, Polvos 3-3, S. Martinez 1-3, Ellis 2-3, O. Valdovinos 1-3, Gomez 1-1.
Game 2: Bridgeport (26) – Hernandez 4-6, Campos 2-6, Polvos 3-6, S. Martinez 2-6, Ellis 3-6, O. Valdovinos 2-6, A. Valdovinos 2-6, Medina 1-2, Gomez 1-4, Cruz 1-5.