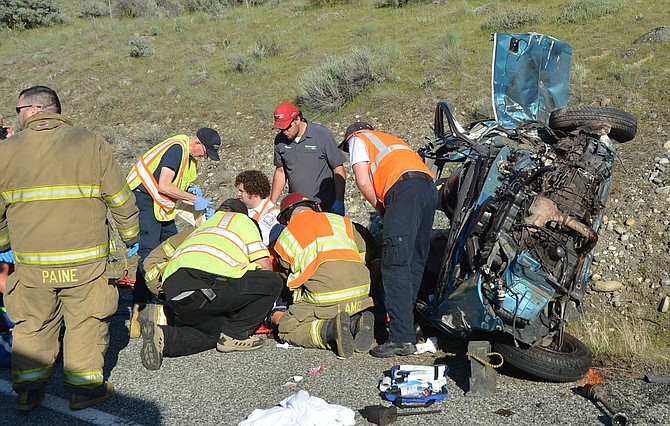 Photo by Al Camp
Workers rescue a woman from her vehicle involved in a crash on Highway 97 adjacent to Okanogan.
OKANOGAN — An Omak woman was airlifted to Confluence Health/Central Washington Hospital after her car collided with a tractor-trailer Wednesday afternoon, April 20, on Highway 97 near town.
Paula H. Gonzales, 53, was picked up by helicopter at the crash scene.
She was northbound at 5:09 p.m. on Highway 97 when her car crossed the centerline and sideswiped the southbound truck at milepost 287, the Washington State Patrol said. The car continued under the trailer, colliding with the rear axel, and then left the road.
Truck driver Nigel D. Mansfield, 59, Brant, Alberta, was not injured.
The car was destroyed and the tractor-trailer was damaged. Both were impounded, the patrol said.
Gonzales was to be cited for crossing the centerline.
No drugs or alcohol were involved. Both drivers were wearing seatbelts.