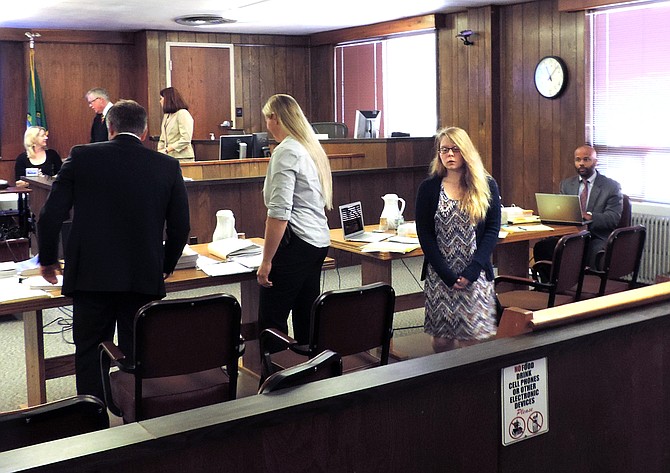 Photo by Brock Hires
OKANOGAN – Opening arguments and prosecution testimony began this morning in Okanogan County Superior Court for the October 2014 death of Tunk Valley resident Patrick Alltus.
According to court documents, Shalin E. Alltus, 18, is charged with first-degree aggravated murder in the death of her uncle, Patrick M. Alltus, first-degree robbery, theft of a motor vehicle, two counts of theft of a firearm and two counts of unlawful possession of a firearm-juvenile in possession of a firearm.
A 12-member jury and two alternate jurors, comprised of eight women and six men, was seated to hear the case.
"September 30th or the following day, the defendant Shalin Alltus' and co-defendant Parker Bachtold murdered Patrick Alltus," Okanogan County Prosecuting Attorney Karl Sloan said in his opening statement.
Sloan said Patrick Alltus' body was discovered Oct. 5, 2014 by Patrick Alltus' girlfriend.
"Mr. Alltus was clearly dead," Sloan said.
A pickup truck and firearms were also missing from the scene, he said.
Shalin Alltus' defense attorney, Kelly Seago, presented a different story to the jury.
"Parker Bachtold is the murderer here," she said. "She's in shock and listens to the person with the gun."
Court documents indicate Shalin Alltus and Bachtold had been staying with Patrick Alltus.
A memo was then sent out seeking the whereabouts of the teens and Patrick Alltus' pickup truck.
Oregon officials contacted the two suspects, who gave false names – Colt Hatch and Britney Keeley – on Oct. 1 when their vehicle ran out of gas, court records show. After the sheriff's office announced the two teens were being sought, Oregon officials tracked them down at the Stardust Motel in Curtin, Ore.
Search warrants were issued for two rooms at the motel. When searching the room occupied by the teens, detectives allegedly found a box of .410 gauge slugs and a Douglas County camping fee envelope that had the name "Colt Hatch" written on it.
Shalin Alltus and Parker Bechtold were extradited back to Okanogan County and have been in custody since on $1 million bail each. Both turned 18 while incarcerated and were moved from the juvenile detention facility to the county jail.
Court records show deputies were dispatched to the victim's home at 6:25 p.m. Oct. 1, 2014. He was found dead in the living room near the kitchen area.
Parker M. Bachtold, 18, pleaded guilty to premeditated first-degree murder, first-degree robbery, theft of a motor vehicle, two counts of theft of a firearm and juvenile in possession of a firearm. He was sentenced to 30 years in prison last week.
For the complete story see Sunday's edition of The Chronicle.