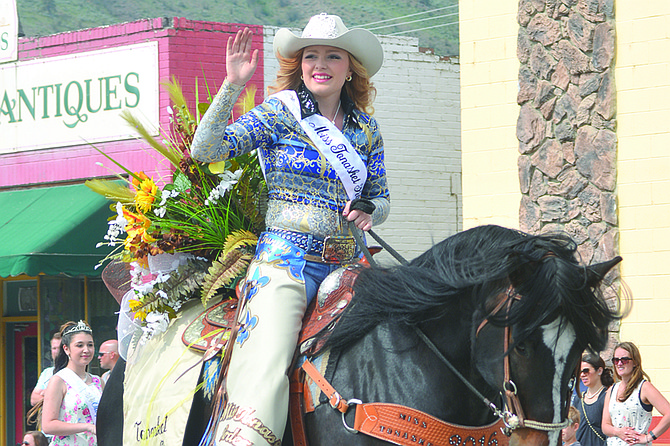 Photo by Brock Hires
Tonasket Founders' Day queen Trinity DeJong is all smiles last month in the Oroville May Festival parade.
TONASKET – A parade, street vendors, rodeo and other activities are planned June 3-4 during the town's 82nd annual Founders' Day celebration.
Queen Trinity DeJong will reign over the festivities.
Esther Caton is this year's grand marshal.
Friday brings the start of the Tonasket Public Library's annual used book sale at City Hall, 209 S. Whitcomb Ave. The sale also features audio recordings and movies.
The sale runs from 9 a.m. to 6 p.m. Thursday, June 1 and Saturday, June 3, and 9 a.m. to noon on Saturday, June 4.
An arts and craft fair and street vendors will be throughout town from 9 a.m. to 4 p.m. on June 4.
Lineup for the parade will be at 9:30 a.m. at Wells Fargo bank, 16 W. Fifth St. Judging will be at 10 a.m., and the parade starts at 11 a.m. on Whitcomb Avenue.
Parade organizers said all horse entries must have a pooper scooper.
Entrants can hand out candy, but organizers ask that it not be thrown from vehicles.
The Chamber of Commerce will host a barbecue lunch from 11 a.m. to 4 p.m. along Third Street. The lunch includes pulled pork sandwiches, a side dish and lemonade.
"It's a great way to spend a weekend and be part of Tonasket Founders' Day," Chamber President Marylou Kriner said. "There's great events' going on all the time."
The Tonasket Comancheros Inc. will host a rodeo at 7 p.m. Friday and 6:30 p.m. Saturday at the rodeo grounds south of town off State Frontage Road. Admission will be charged.
The Pro-West Rodeo will feature local competitors, team ropers and barrel racers.
Following the rodeo, the Tonasket Eagles, 213 S. Western Ave., will have karaoke on Friday and live music by the Night Riders beginning at 9 p.m. on Saturday, June 4.
The Company Band will perform at the Kuhler, 302 N. Whitcomb Ave., at 9 p.m. Saturday, June 4.