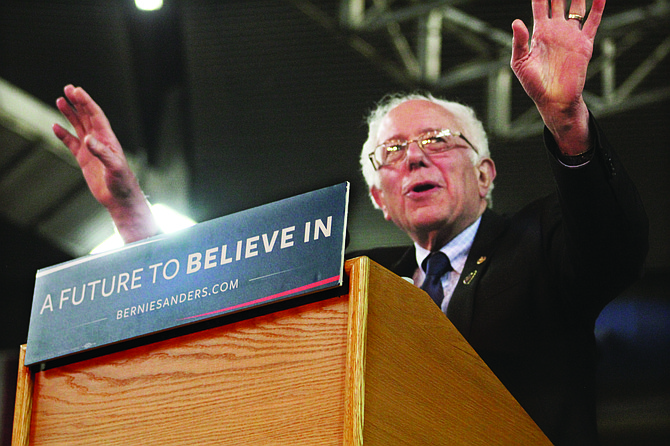 Roger Harnack/Daily Sun News
Sen. Bernie Sanders rallied Eastern Washington Democrats last night during an event in the Yakima Valley SunDome in Yakima.
YAKIMA — More than 7,000 raucous Sen. Bernie Sanders supporters rocked the Yakima Valley SunDome last night as the presidential hopeful brought his socialistic views to Central Washington.
As the Independent prepared to enter the arena, the sound system blared the Muse song, "Uprising." The hard-rock tune set the stage for the candidate who would declare a political revolution was taking place, and that he is leading the charge.
Yakama Nation tribal representatives took the stage first, each declaring their support for Sanders.
Tribal and Latino leaders took the stage to voice their concern over the way American Indians and "undocumented" residents are treated in the United States.
"I believe Bernie Sanders can help, not only my tribe, but all tribes," tribal youth representative DeShawn Seymour said. "You need to think about how Bernie Sanders can benefit us all."
The crowd burst into a thunderous chant: "Feel the Bern. Feel the Bern. Feel the Bern."
Yakima County Democratic Central Committee Chairwoman Susan Palmer, too, voiced her support for Sanders, who is expected to win the party caucus tomorrow in our state.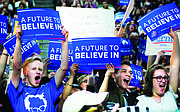 "My American dream has been smashed" by difficult financial times, she said.
Palmer said the country is divided along race, immigration and deportation, social, financial issues, but added Sanders is the man to change that.
"President Sanders will lead us in stopping deportations," she said, playing on the emotions of Latinos in the crowd.
As Palmer concluded her brief comments, Sanders sauntered into the arena, waving to the 7,019 supporters who had filled the stands and the floor of the venue. Capacity is 7,373.
For more than an hour, Sanders continued to tell supporters that his campaign is listening.
The senator started by tackling super political action committees and what he called a corrupt election system.
"Billionaires and their super-PACs are ruining our Democracy," he said. "One person, one vote."
Sanders vowed to eliminate the super-PAC influence in the election process, but he also took on governors he said were making it difficult for residents to vote, taking aim at states now requiring identification to vote.
"If you don't have the guts to run in a free and fair election, get another job," Sanders said, to the cheers of thousands of Latinos at the event. "Get out of politics."
He also took shots at the economy, specifically Walmart stores and their Walton family owners.
"This campaign is not only taking on a corrupt election system, it is talking about a rigged economy," he said.
According to Sanders, Walmart pays wages so low that "employees in this area don't earn enough money for an apartment."
"So, I say to the Walton family, get off welfare and pay workers a living wage," he said.
Sanders used that to segue into lecture on the need for a $15 minimum wage across the nation and then into talk of making all public colleges and universities tuition free, as well as the importance of gainful employment after school.
"If employment is so important, how come we leave school $40,000 to $50,000 in debt," he asked. "We shouldn't be punishing them (students), we should be rewarding them."
Sanders said his tuition-free idea isn't "radical." He said its practiced in other countries around the globe, giving their young workers a leg up on the rest of the world.
"They have the wisdom to invest in the young," he said.
Sanders encouraged supporters and the rest of the nation to "think outside the box" and come up with solutions to gender inequality, immigration, tribal treaty rights and more.
"This campaign is listening to the Latino community," he said. "They want, and I want, comprehensive immigration reform.
"We've got to stop the exploitation of undocumented people," he said, noting that deportations also have to stop.
"Immigration reform is not dividing families, but uniting families," he said.
The presidential hopeful called on government to also start reinvesting in roads, bridges and other public infrastructure.
If elected president, he said he would push for a $1 trillion transportation package and put people to work building roads, bridges, water systems and more.
"We will create millions of jobs," he said.
Sanders also addressed climate change and affordable health care.
"If we do not get our act together in the next few years, we're going to see more droughts, more floods," he said. "We have a moral responsibility to leave this place healthy and habitable."
That means taking on the fossil fuel industry and pushing for alternative energy sources, he said.
Moving on to health care, Sanders said affordable health care is a "right" of all people.
Before leaving the stage, Sanders took a parting shot at Republican front runner Donald Trump.
"The American people won't vote for Donald Trump for president. At the end of the day, love trumps hatred," he said, referring to the billionaire real estate mogul's push to build a wall to halt illegal immigration and his call to ban non-American Muslims from entering our country.
"This is a pivotal time in American history," Sanders said. "We can be much more as a people. We can't allow the Trumps of the world to divide us.
"If we stand together, there is nothing we can't do."
After the rally, 28-year-old Toppenish resident Amy Gutierrez called the event "exciting" and said Sanders now has her support.
"He touched on all the issues of interest to me," she said.
Her friend, Yanet Gil, 32, also of Toppenish, said Sanders had won her over as well.
"I love that he united everybody," she said. "I really appreciated that he said we can come together to make American great."