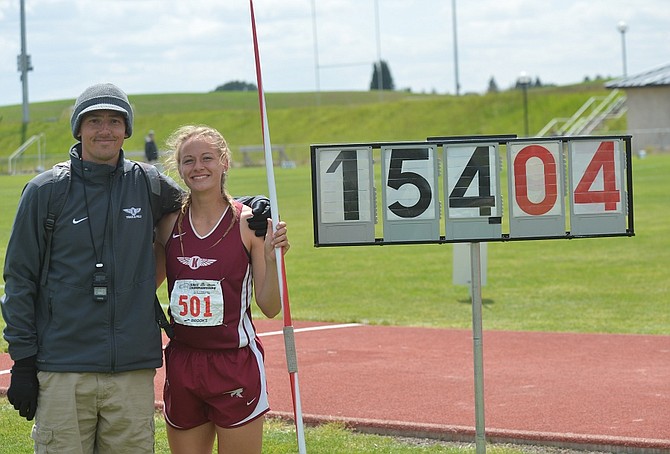 CHENEY — State 1B/2B/1A track and field championships produced some remarkable moments Friday at Eastern Washington University in Cheney.
One of the most memorable came in 2B girls' javelin.
Emmy Engle, one of three Okanogan throwers (Jill Townsend and Adilia Zunie) and seeded No. 1 into state, uncorked at 141 foot, 11 inch throw on her last of three in her heat
The toss, into a strong headwind, was a personal best and broke her school record of 140-5 set early in the season.
And the throw put Engle No. 1 (last throw) into a final with three more throws.
Elizabeth Stottlemyre of Northwest Christian-Lacey attempted to stay close, finishing second in the first three throws with a best of 132-9, ore more than 9 feet behind Engle.
But anything can happen at state, and it did.
Stottlemyre uncorked a 145-06 on her final throw.
That charged up Engle, who had scratched on her second throw and gone 127-2 in her first throw in the finals.
Engle roared down the runway, in her final throw at Okanogan High School, and let loose with a 154-4 throw that tied the state 2B record.
Townsend (133-3) finished fourth and Zunie (119-10) was seventh.
The trio tacked on 17 team points for Okanogan girls, which the state 2B team standings with 30 points heading into Saturday's final events.
The Okanogan boys were tied for seventh.
Records fall
Jose Padilla of Chelan set a new state discus record in not only 1A, but for any level with a 195 foot throw.
The mark broke the 1A record of 178-6 set in 1968 by Fred Swendsen of Fife.
And it upped the state's best-ever in a state meet of 193-8 set in 1979 by Gary Leffler of Clarkson..
A pair of pole vault makes fell.
Scout Cai of Colfax went 12-4, breaking the previous 2B record of 11-9.
And Elli Kimes of Cashmere now holds the 1A state record at 13-0.5.