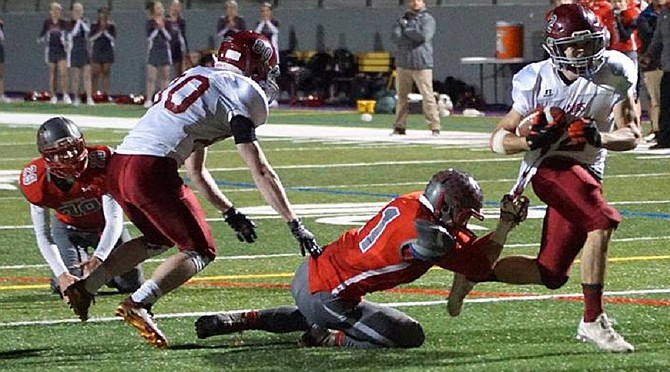 Bret Fields
A Cascade player attempts to keep Greyson Field from scoring during a mini-playoff game Tuesday at the Apple Bowl in Wenatchee.
WENATCHEE — Okanogan won a mini-playoff Tuesday that elevated the Bulldogs to a crossover game with Northeast A League for a berth to the state 1A tournament.
Okanogan edged Cashmere, 7-6, in the first game under Kansas City tiebreaker rules.
Cashmere attempted a 2-point conversion that was stuffed just short of the goal line.
Okanogan then took on Cascade, winning 13-10 after Greyson Fields scored on a one-yard plunge.
Cashmere then beat Cascade for the No. 2 seed to crossover games.
The mini-playoff was needed because Okanogan, Cashmere and Cascade tied with 3-1 records in the Caribou Trail League.
Only two of the teams could advance to crossover games with the Northeast 1A League for berths to state.
Okanogan (8-1) hosts Newport (5-4) at 6 p.m. Friday. The winner advances to state as the No. 1 seed from District 6 (CTL).
Okanogan edged Newport, 19-13, in week 2 of the regular season.
"This should be a great game," Okanogan coach Erick Judd said. "They throw and run the ball well. Their quarterback is a run and pass threat. They have a strong defense that has not given up a lot of points this season.
"We will need to minimize our penalties and win the turnover margin."
Cashmere (5-4) is at Colville (6-3) at 1 p.m. Saturday with the winner advancing with the District 6/7 No. 4 seed to state.
Friday, Nov. 4
Newport at Okanogan, 6 p.m., winner District 6 No. 1 seed to 1A state
Omak vs. Chewelah at Kettle Falls, 6 p.m.
Selkirk at Pateros, 6 p.m.
Cascade vs. Lakeside at Roos Field, Cheney, 6:30 p.m.
Tonasket vs. Dayton/Waitsburg at Brewster, 7 p.m. (Winner chooses between District 6 No. 1 and District 5 No. 1 to 2B state; loser gets other No. 1 seed to 2B state)
DeSales at Lake Roosevelt - winner District 5/6 No. 3 to 2B state
Soap Lake at Kittitas-Thorp - winner District 5/6 No. 4 to 2B state
Manson vs. Tri-Cities Prep at Pasco - winner District 5/6 No. 5 to 2B state
Bridgeport at Waterville
Inchelium at Odessa-Harrington, 7 p.m.
Republic at Entiat, 7 p.m.
NEA 1 (Colville), bye, District 7 No. 1 seed to 1A state
NEA 2 (Freeman), bye, District 6/7 No. 3 seed to 1A state
Saturday, Nov. 5
Colville at Cashmere, 2 p.m., winner District 6/7 No. 4 seed to 1A state
Oroville vs. Mabton at Brewster, 2 p.m. - Winner District 5/6 No. 6 to 2B state